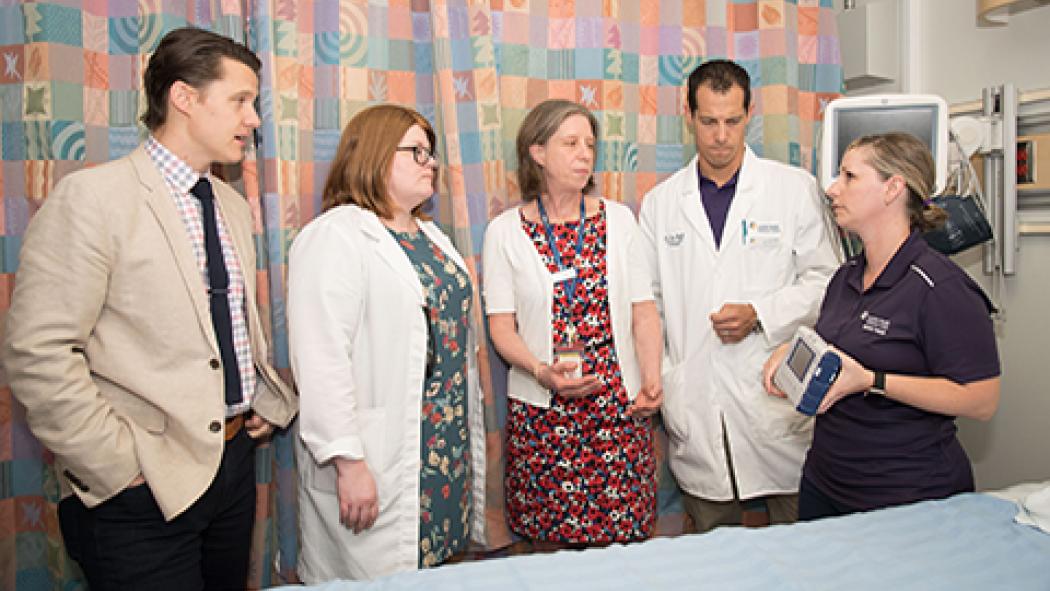 Members of the Trauma Team discuss how the new End Tidal CO2 monitors work. Pictured from left to right: Dr. Rob Leeper, Amy Makish, Lynne Kelly (Drugs and Therapeutic Executive Committee Representative), Dr. Ian Ball and Chrissy Pettit.
June 5, 2019
Constantly seeking to improve the patient experience, one year ago, members of the Trauma Team explored the possibility of changing a guideline to permit procedural sedation to occur in the Trauma Observation Unit (TOU). They moved quickly; from the initial idea to implementation was only seven months. This has resulted in fewer patient transfers for simple procedures, less pain for patients and an overall improved patient experience.
Located on B9 at Victoria Hospital, the TOU is a four bed, level-two monitored unit that provides specialized acute care to the region's most seriously injured patients. A collaborative interprofessional Trauma Team carries out the focused care in the TOU with dedicated expertise in the care of patients who have sustained significant injury after trauma. With a 2:1 patient to nurse ratio and the infrastructure in place, only the procedural guideline change and training were required to implement the guideline as requested.
Procedural sedation is a specialized procedure that is only permissible to occur in areas that meet the minimum criteria which previously meant only in select areas such as the Emergency Department, Critical Care and Operating Room, but the Trauma Team knew they could champion this added skill. "Despite our best efforts, it is very difficult to achieve effective pain control for chest tube insertions with local anesthetics" says Dr. Ian Ball, Trauma Physician. "Using [procedural] sedation in the form of agents like Propofol or Ketamine is what I would want if I were the patient."
The nurses in the Trauma Observation Unit are already specially trained in skills like ECG interpretation. Chrissy Pettit, the Clinical Educator for Ortho/Trauma knew that the additional education would be straightforward for the nursing team to learn and quickly adopt. Chrissy pointed out, "all we needed was a change in the procedural sedation protocol and End Tidal CO2 monitors." Once the ETCO2 monitors were purchased through funds raised by the Trauma Golf Classic in collaboration with London Health Sciences Foundation, the protocol change was created in collaboration with and submitted for approval to the Drugs and Therapeutic Committee at LHSC. The TOU started procedural sedation in September 2018.
Amy Makish, the Trauma Program Nurse Practitioner, was part of the group that spear-headed this change. Always looking for a way to improve patient care, Amy admits "Change is good! I am always exploring new ways to improve the TOU to benefit the needs of our trauma patients. I don't take no easily when I want to improve care for our patients!" Making this change in the TOU has had a big impact on the patients without them knowing.
Being able to provide procedural sedation in the Trauma Observation Unit has meant improved patient experience, as patients no longer require to be transferred to different departments for simple, yet painful procedures such as fracture/dislocation reduction, chest tube placement, complicated dressing changes, and suturing of complex lacerations. As Dr. Rob Leeper, a Trauma Physician describes, "gaining the ability to perform quality sedation in the TOU has been like gaining the ability to run when before we could only walk. When needed it is a massive win for our patients, our staff, and our providers. I'm very happy and proud that we have it available in our unit."
The Trauma Team is now working with the Critical Care team to change another policy to enable the provision of non-invasive ventilation in the TOU when needed. This will be another skill that will increase the level of services the already highly skilled team in the Trauma Observation Unit can provide to patients.
The Trauma Team seeks continuous improvement opportunities to deliver exceptional quality and safety at LHSC.