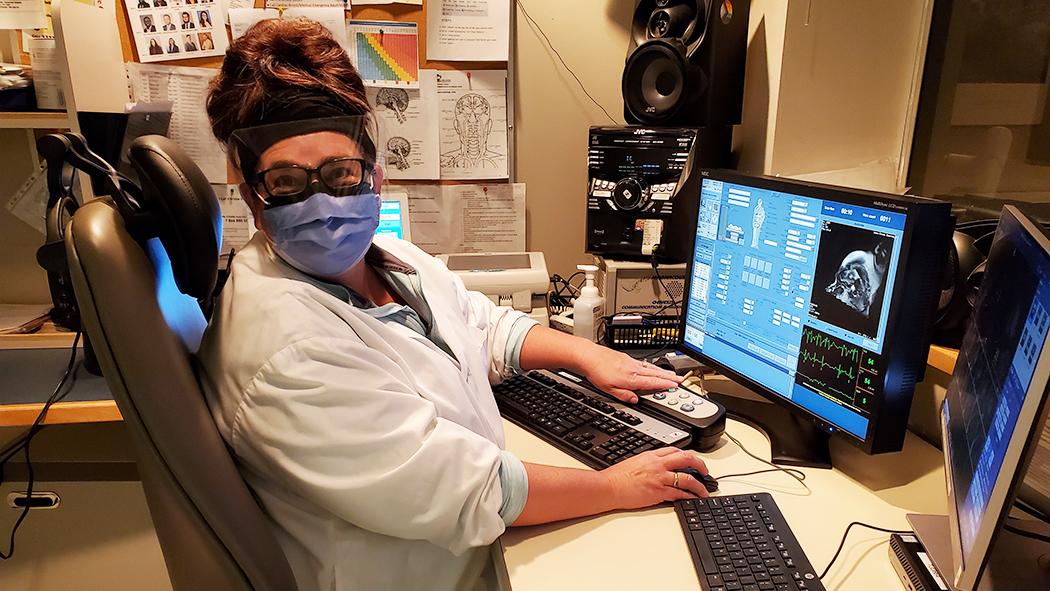 November 8, 2021
From November 7 to 13, Canada will celebrate the Medical Radiation Technologist Week in honour of the contributions of medical radiation technologists or therapists (MRTs), and in commemoration of the discovery of x-rays in 1895.
During the last six months, 25 per cent of Canadians have had a medical imaging or radiation therapy treatment.
Today, the MRT profession includes a diverse array of highly-trained professionals representing various medical imaging and radiation therapy disciplines. Some of them are Radiological Technologists, experts in the operation of complex medical radiation equipment while providing comprehensive, compassionate care to each patient; and Magnetic Resonance Technologists, professionals with extensive knowledge of anatomy, pathology and physiology.
Other fields within the MRT profession are Nuclear Medicine Technologists, experts in using radiopharmaceuticals and radiation physics to perform diagnostic imaging procedures with sophisticated technology. Radiation Therapists are responsible for planning and administering radiation treatment for cancer patients. Lastly, Diagnostic Medical Sonographers, with their extensive knowledge of anatomy, pathology and physiology, obtain images of the human body such that physicians can appropriately diagnose, treat and manage a patient's health.
Let's take a moment to meet a few of them across LHSC.
"I am a Medical Radiation Technologist at Victoria Hospital in General Radiography. After sixteen years working at LHSC, I can say overcoming limitations and challenges that present themselves while trying to image injured patients is the most satisfying part of my job. The technology in our profession is always changing, and I am looking forward to seeing what advancements will come in the future." - Chris Czaplinski MRT(R), General Radiology.

"I have been an MRT for fifteen years working in general X-Ray, CT and Interventional Radiology, and I am currently working in IR and Neuro Radiology. It excites me to see and help our regular patients and be a team member performing life-changing procedures, such as Clot retrieval for Stroke patients and Angiovascular treatments. We are in the process of installing two new state-of-the-art biplane suites, and I look forward to learning the new technology and applying it to life-changing procedures for our patients." - Missy Bergsma MRT(R), Interventional Radiology.

"I have been working as a Medical Radiation Technologist in VH Medical Imaging for twenty years. The reason for what brings me back to work every day is the patients. It is an honour to be able to walk alongside them during their journey. It drives me to see the kids with their big smiles and when they are proud to do their CT scan without sedation. With advancing technology, some of those cancer patients can now get ablations in CT as a treatment. Whether a patient is for workup, follow up, or a full trauma scan, CT is there, and we are happy to help." - Jodie Hagar MRT(R), CT.

"I have been an MRT for twenty-four years and have worked in the Medical Imaging department at LHSC - UH as a Magnetic Resonance Imaging (MRI) Technologist for twenty of those years. Patient care in MRI is critical to me, as having an MRI can be a very stressful experience for many of our patients. I have always enjoyed making my patients feel comfortable before and during the scanning procedure. As MRI technologists, we are with our patients for a short period in their medical journey, and I have found we can profoundly impact their time here in the hospital by simply talking and listening to each other." - Michelle Smith MRT(MR), MRI.

"I graduated with my BSc in Medical Radiation Sciences eleven years ago and have been with the London Regional Cancer Program for the past ten years. Radiation Therapy is unique in that patients typically have several weeks of treatment, giving us a chance to get to know them. I need to be adaptable and able to be what my patients need me to be; offer them guidance on managing symptoms, a shoulder to cry on or just that person to talk to about everyday life. Despite the daily challenges, I believe you should enjoy what you do and create a positive environment." - Jen Neeb MRT(T), Radiation Therapy.

"For as long as I could remember, I knew I wanted to work in a hospital as part of a team helping people. Once I found out about sonography, I never looked back. In what's been a growing field with many specialties, being a sonographer has been nothing short of a rewarding career thus far. Finding what is causing a patient pain and being there for them as they experience their first biopsy is a feeling impossible to describe. The duties are endless as a sonographer and sometimes often go beyond the scanning, and frankly, I wouldn't trade it for anything else." - Jennifer Hueni MRT DMS, Ultrasound.