October 23, 2013
Psst … Pass it on: infection control matters, and not just for the health care professionals at Canada's Community and Hospital Infection Control Association (CHICA).
As health care institutions from Vancouver to Halifax gear up for National Infection Control Week, London Health Sciences Centre Infection Prevention and Control Director Cathy Vandersluis says she hopes the attention focused on infection control nationally will lead to a greater awareness of the subject locally.
"Infection safety is a top priority at LHSC and while the basic principles of infection prevention and control include hand hygiene, environmental hygiene and risk assessment, we're always looking for opportunities to get our message out," Vandersluis says.
"National Infection Control Week is a great way to teach people why Infection Control matters  – but infection safety transcends one week. It really is something everyone has to practice, 365 days a year."
LHSC has Infection Prevention and Control champions dedicated to making that happen – and an ever-growing list of programs designed to improve infection safety levels, both in the hospital and in the community at large.
These include an antimicrobial stewardship program, new protocols to prevent central line infections, physician, visitor and patient hand hygiene initiatives, human waste management programs, MRSA suppression techniques and new infection surveillance software.
According to CHICA-Canada (a national, multi-disciplinary volunteer association of Infection Prevention and Control Professionals) Infection Prevention and Control programs have been widely recognized to be both clinically effective and cost-effective in preventing and controlling the spread of infections in health care settings.
Ultimately, the best  way to prevent the transmission of infection is through hand hygiene and effective environmental cleaning.  Everyone can help prevent the spread by adhering to infection control rules and standards, by being involved, providing input and initiating change through positive infection control practices.
Learn more about CHICA and National Infection Control Week.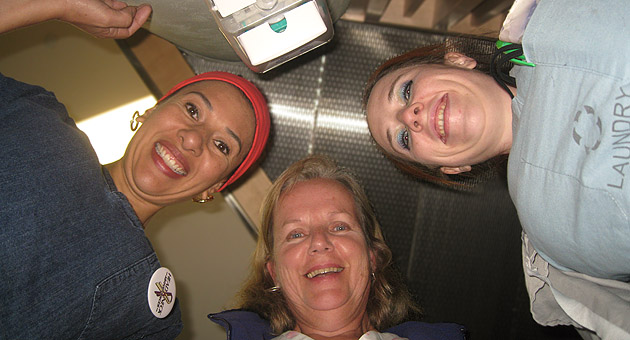 LHSC infection safety champions pose by a hand sanitizer after last week's education session at Victoria Hospital.