February 28, 2014
London Health Sciences Centre was pleased to participate in the Ministry of Health and Long-Term Care's announcement of a new Health Link being established in London.
The London Health Link will offer seniors and patients with complex conditions better care through personalized care plans and more coordinated care from a tightly knit team of providers. The Health Link will help improve patient transitions within the health care system by encouraging providers to share patient information and work together to develop solutions that address each patient's specific needs.
"Health Links aligns with our increased focus at London Health Sciences Centre to work closely with system partners to find new and improved care pathways that better serve patient needs and reduce reliance on acute hospital services. Health Links will support enhanced system collaboration meaning that, collectively, we can ensure people across London and the region will receive the best care, in the most appropriate location, with the right level of support," says Laurie Gould, Executive Vice President of Patient Centred Care at LHSC.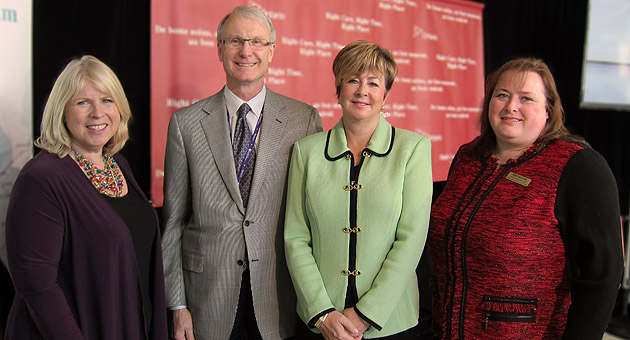 At the announcement of the new London Health Link are, from left: Deb Matthews, Minister of Health and Long-Term Care; Dr. Stephen Wetmore, Chair/Chief, Citywide Department of Family Medicine and Board Chair of the Thames Valley Family Health Team; Laurie Gould, Executive Vice President of Patient Centred Care, LHSC; and Keri Selkirk, Executive Director, Thames Valley Family Health Team

.
In London, high needs patients will soon benefit from better care co-ordination through the creation of the London Health Linkwhich is being led by the Thames Valley Family Health Team and currently made up of the following providers:
Addiction Services Thames Valley

Blackfriars Family Health Organization

Community Support Services (represented by Cheshire Homes of London)

Health Zone NP Led Clinic

London Family Health Team

London Health Sciences Centre

London Intercommunity Health Centre

Long-term care sector (represented by the McCormick Home)

Southwest Ontario Aboriginal Health Access Centre

South West Community Care Access Centre

St. Joseph's Health Care London
With improved co-ordination and information sharing, patients will receive timely access to the most appropriate care in the most appropriate place, and will be supported by a team of health care providers at all levels of the health care system.
By bringing local health care providers together as a team, Health Links help family doctors to connect patients more quickly with specialists, home care services and other community supports, including mental health services. For patients being discharged from hospital, the Health Link enables faster follow-up and referral to services like home care, helping reduce the likelihood of re-admission to hospital.
You can learn more about Health Links including how a Health Link can provide better care for a patient with complex conditions.