May 11, 2015
On April 14, Igor the dog and his handler, Tracey Silverthorn, made their first trip to see patients on the ninth floor Sub Acute Medicine Unit at London Health Sciences Centre (LHSC).
As part of the Medicine Program's commitment to creating and enhancing senior-friendly environments, a new Pet Therapy Initiative has been introduced.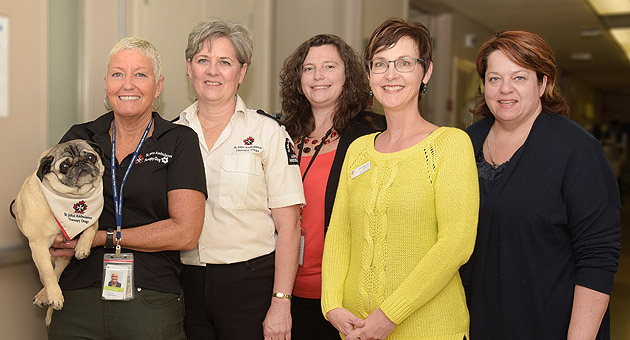 On April 14, Igor the pug and his handler Tracey Silverthorn (far left) launched the Pet Therapy Initiative on the ninth floor Sub Acute Medicine Unit.
This project started as an idea from Medicine's Continuous Quality Improvement (CQI) group to help reduce loneliness for elderly patients who may find themselves hospitalized for prolonged periods. Loneliness in the senior population is a significant problem. These feelings can be exacerbated for a number of reasons such as a change in environment, unfamiliar faces or isolation, as well as a change in routine.
Feelings of isolation and melancholy can lead to both physical and psychological health problems. Dog therapy has shown to reduce these problems, leading to better patient outcomes.
On his first day, Igor visited four patients - their smiles alone showed how much they enjoyed their time with the dog. One gentleman expressed that the visit was not nearly long enough, as he enjoyed it so much. Another patient commented that she had been feeling quite down that day, but her time with Igor really lifted her spirits.
Igor left the unit with a very shiny coat and everyone looking forward to the next weekly visit.
The dog therapy visitation program represents collaborative work between St John's Ambulance and several different programs and CQI groups at LHSC. It will be piloted in Sub Acute Medicine at University Hospital and may expand to other areas as well.
This is only one of the over 130 initiatives at LHSC that have grown out of the CQI councils. Through this work, front-line staff are empowered to develop strategies and implement solutions with the goal of increasing the quality and safety of patient care delivery.