September 12, 2017
Do you know a staff member, volunteer or physician at London Health Sciences Centre who volunteers their time in our community? Perhaps you have worked with them at a local non-profit organization or at a charitable event. 
Consider recognizing that remarkable person with an LHSC President's Award for Community Service. 
LHSC is proud to recognize and celebrate the many staff, physicians and volunteers who devote their personal time to enriching the lives of others. Established in 2006 to honour the community service legacy of LHSC's first president and CEO, Tony Dagnone, this award recognizes those whose volunteer achievements have made a difference to the lives of people in our local community.
Linda Kuska, a registered nurse in the Orthopaedic Clinic at LHSC, was the 2016 recipient of the award. Linda is an 18-year member, team captain and past president of the Rowbust Dragon Boat team. Additionally, Linda is recognized as a champion for breast cancer awareness in the community, having survived the disease in 1999. It is from this personal experience that Linda feels a drive to be involved in the community.
"After you are diagnosed with breast cancer and the control of your life is taken away, you just want to celebrate life," says Linda. "What better way to get over a health scare than by getting physically and mentally strong?"
Linda reflects that being recognized at the 2016 awards ceremony was incredibly memorable – especially when the entire Rowbust team came to support and celebrate her work and dedication to the team.
"You always know that your colleagues and teammates love and respect you. But to actually listen to those kind words and have people take the time out of their day to say those words about you… that is priceless and I will always remember it."
Members of our community (i.e. those outside the hospital) can nominate LHSC staff, physicians and volunteers for this Community Service award. Deadline for nominations is Wednesday, October 11, 2017 and more details on the award criteria and nomination process can be found on the President's Award Program website.
"There are so many great people doing great things in our community, and unless you talk about them they sometimes go unnoticed," says Linda. "This award gets them noticed and hopefully inspires others to realize they can make an impact as well."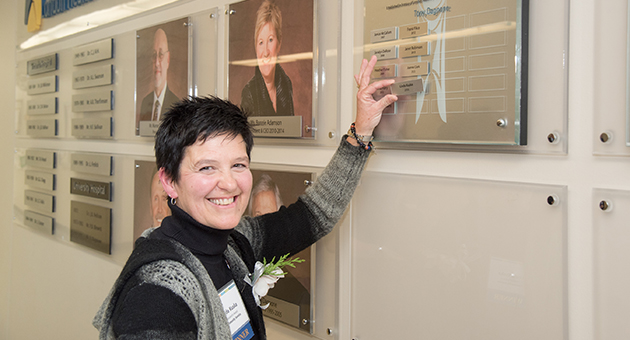 Registered Nurse Linda Kuska was the 2016 recipient of the President's Award for Community Service.