Porters engage in friendly bake-off, serve the less fortunate and spread awareness of the work they do
November 8, 2013
Did you know that if we lined up, end to end, all the stretchers transported by our Victoria Hospital's porters in one year that the line would extend from Victoria Hospital to Milton Ontario?
There are over 120 porters between University Hospital and Victoria Hospital, responsible for transporting patients and items such as linens, blood and equipment throughout the hospital.
Nov. 4-8 is porter awareness week and to help celebrate, the porters at LHSC have been incredibly busy.
"During porter awareness week, we are really hoping to achieve three goals," says Ryan Prong, service coordinator, portering services. "The first is to raise awareness of what we do and who we are, the second is to give back to our hospital and community and the third is to get to know one another."
Already, the portering teams at VH and UH have engaged in several activities, including serving dinner for the Ark Aid Street Mission on Oct. 25 as an early kick-off to the awareness week.  The evening was such a success that the department now hopes to make their support of the mission ongoing.
"There's talk of serving a full Christmas meal that we would bring in and cook ourselves," says Prong. "We also hope to be able to help supply Ark with much needed donations, including basic supplies like coffee, sugar and buns – as well as those things that can bring some Christmas cheer. They have asked for our help in supplying a tree and ornaments."
On Wed. Nov 6, a friendly bake-off competition held in the auditorium B in University Hospital saw nine porters go head to head after paying a "feel good entry fee" – a donation of non-perishable goods. But before the participants could indulge in the treats, special "celebrity judge", Susan Rosato led the group of porters in an exercise designed to make them sweat to earn their sweets.  
Jaclyn Payne won for best taste and best presentation with her chocolate and caramel topped cheesecake, and over 50lbs of food was collected for the food bank.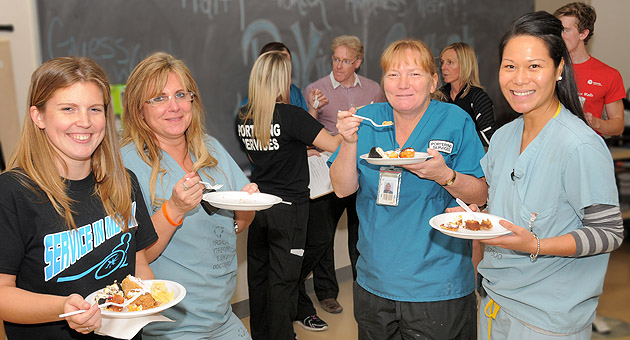 From left, Jaclyn Payne, Cindy Lambourn, Liza Larsen and Kara Develos enjoy the fruits of bake-off contestants labour while dessert judges work hard in the background.
Porters for Smiles are also back at it again – look for the display booths set up at VH in E wing, Level 2 by the Tim Hortons and outside the cafe on Level 3 at UH from Mon-Fri.  At the booths, tickets ($1 for 2, $3 for 5 and $7 for 10) can be purchased for the next raffle in support of child life and visitors can also enjoy a presentation on the porters and the work that they do.
To make a donation to the food bank, Ark Aid Street Mission, or learn more about the porters at our hospital – talk to one of our friendly porters.
See more photos from Porter Awareness Week on LHSC's Facebook page!