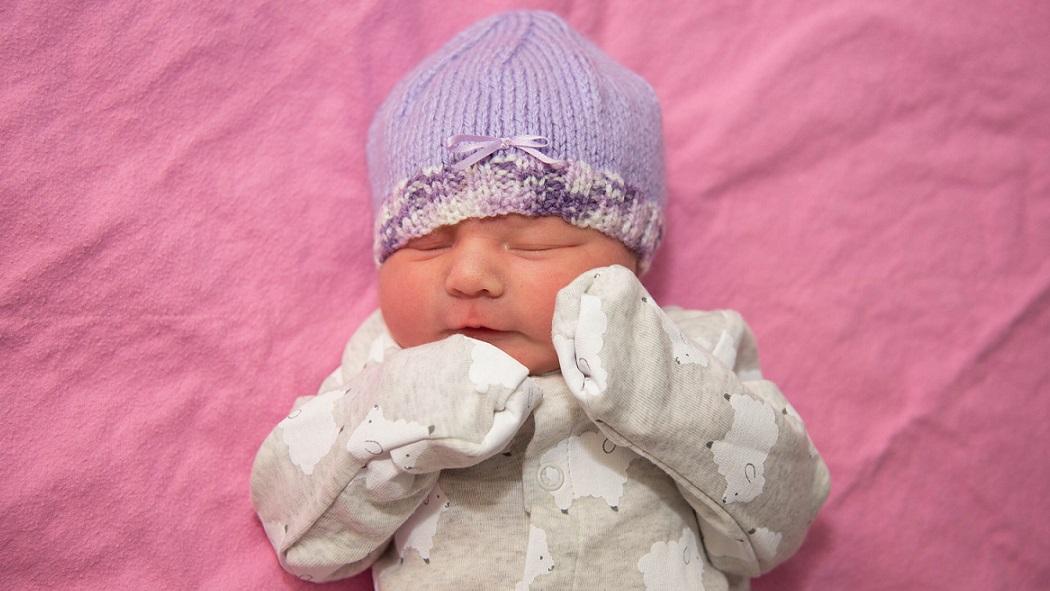 Newborns going home from London Health Sciences Centre (LHSC) throughout the month of November will once again be sporting handmade purple hats, in recognition of the Period of PURPLE Crying – the time in a baby's life where they cry for hours, often inconsolably.
Parents and caregivers will also notice LHSC sharing the video below on social media channels to increase awareness and education about the Period of Purple Crying. "The Period of PURPLE crying is one of the biggest stressors for new parents," explains Jennifer Britton, Injury Prevention Specialist, LHSC. "We want to educate parents that it is a normal part of infant development that beings as early as two weeks and can last three to five months."
From 2014 – 2018 LHSC caregivers treated 14 serious cases of shaken baby syndrome and treat between one to six cases each year. "The crying can be frustrating, so it's important that parents have strategies in place to help. If you need a break from the crying, put your baby in a safe place and take a few minutes to yourself before going back to check on the baby. Taking that few minutes can make a world of difference," continues Britton.
The word PURPLE is an acronym which reminds parents in an easy to remember way all of the characteristics of normal infant crying. The letters in PURPLE stand for:
Peak of crying – The baby may cry more each week, peaking at two months, and then less at three to five months.
Unexpected – The crying can come and go, with no explanation.
Resists soothing – The baby might not stop crying no matter what you try.
Pain-like face – It may look like the baby is in pain, even when they are not.
Long lasting – The baby might cry 5 hours per day or more.
Evening – The baby might cry more in the late afternoon or evening.
"It can be very unsettling to new parents when their child is crying for hours on end for no understandable reason," says Britton. "Each new family leaving the hospital receives an information package about the Period of PURPLE Crying, helping them recognize the signs, and understand that it's entirely natural and – importantly - temporary."
Through generous support from the Children's Health Foundation, in 2009, Children's Hospital was the first hospital in Ontario to adopt the Shaken Baby Syndrome education program in their Mother Baby Care Unit and Neonatal Intensive Care Unit.
The program is delivered by nurses to each mother/family, the education includes a take-home booklet and DVD or app code, focusing on positive messages and strategies on coping with infant crying.
LHSC began recognizing the November awareness month with a knitting campaign, asking people to consider knitting tiny purple hats for newborns. There was an overwhelming response to that campaign – so overwhelming, in fact, that the hospital has enough hats to last a decade or more!
"We certainly could never have expected that we would have the response we did to our request for donations," said Britton. "The hats we received were beautiful and our families have just loved receiving them as a keepsake of their time in hospital. Since we have so many hats still in stock, we're encouraging our knitting friends to consider making items for their local shelters, or agencies that support children and families so that others can benefit from their talent and generosity."