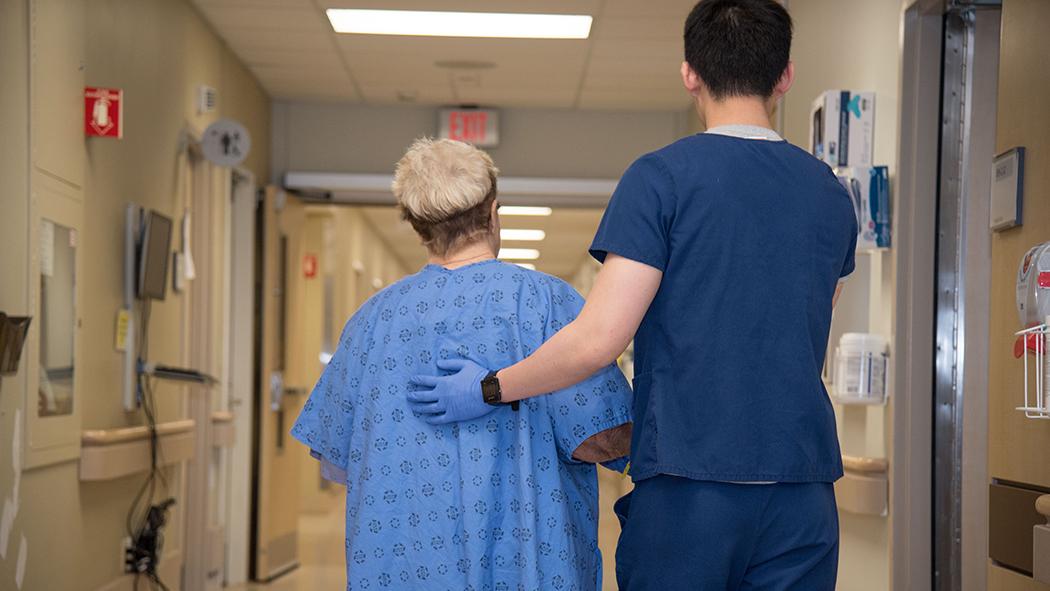 November 19, 2021
Patient falls impact patient care, increase length of stay, prolong impairment, and a fall resulting in injury can induce anxiety and a fear of falling, which can lead to an increased chance of falls as well as impact the patient's quality of life. This can include the loss of independence and a withdrawal from social activities. Patient falls cost the Canadian health care system approximately $8.7 billion a year as per the Registered Nurses Association of Ontario (RNAO). November is Fall Prevention Month. While fall and fall injury prevention are always important aspects of the patient care journey, now is a time to highlight this prevalent issue that is present in all health care facilities. London Health Sciences Centre (LHSC) is working hard to prevent patient falls and related injuries within our walls.
Kayley Perfetto, a patient safety specialist in Patient Safety, and Accreditation, notes that most of the patient falls occur in individuals over the age of 65. "Three significant risk factors of experiencing a fall during a hospital stay are– gait and/or mobility issues, experiencing a previous fall, and having a balance issue – are all more likely to occur in the older population. As we age, these risk factors tend to increase."
The Royal College of Occupational Therapists has identified over 400 individual risk factors of falling, showing just how complicated an issue fall and fall injury preventions can be to mitigate. But, knowing why people fall is a way to help implement better strategies.
Perfetto explains that most patient falls occur in patient rooms and bathrooms. "In the patient room, there are many interventions to prevent falls in and around the bed, but for patients who are mobile and able to stand, that is often when falls happen." She explains that postural hypotension (becoming dizzy or lightheaded from standing up too fast) is something that can cause a fall. "Sometimes patients get out of bed safely, but then walk on their own and fall, or a patient may receive a treatment or have recently given blood and become dizzy and fall." Perfetto notes that falls also occur largely in bathrooms when patients may be alone and potentially embarrassed to call for help.
LHSC's departments of Patient Safety & Accreditation, Nursing Professional Practice, and Risk Management have been involved in strategies to prevent patient falls and injuries resulting from patient falls, but are escalating their collaboration and have started work to update the corporate Falls Prevention Strategies. Perfetto elaborates, "We're considering best practices within the literature and professional guidelines, and updating the corporate strategy in accordance with that."
Some of the key components to fall and fall injury prevention at LHSC, include:
patient and family education about a patient's falls risk
staff communication of a patient's specific falls risk
considering the patient's individual falls risk by looking holistically at the patient as a whole and providing prevention strategies that are patient specific.
"Patient and patient family education is one of the most important aspect of fall and fall injury prevention because it helps the patient and their family to understand the patient's risk and make the right decisions during their stay in hospital," Perfetto says, "Staff communication is crucial because a patient's falls risk can change within a single day depending on their treatments, medication changes – so many things can impact patient risk - making communication among staff, and a holistic view of the individual patient imperative."
LHSC is committed to ensuring patient safety and improving fall and fall injury prevention strategies to provide the best, safest care possible.
If you would like to review a fall prevention community of practice resource, please visit: https://www.fallsloop.com/