June 4, 2014
A report released at the beginning of May highlights the positive impact Nurse Practitioners have on patient health. The Nurse Practitioner Practice Integrations and Outcomes Study was completed in collaboration by Dalhousie, Ryerson and Western Universities, and LHSC's Tina Hurlock-Chorostecki, Nurse Practitioner, Adam Linton Dialysis Unit, VH was one of the seven researchers involved.
"The goal of the study was to foster understanding of nurse practitioner work in hospital and nursing home settings, and how it contributes to inter-professional collaboration for the purpose of providing high quality, safe patient care," says Hurlock-Chorostecki. "What our study demonstrated was the integral role that nurse practitioners play in developing and maintaining the inter-professional relationships across the patient's health team."
Working within a legislative scope of practice, a nurse practitioner has the ability to work independently from physicians, and diagnose medical conditions, order and interpret tests, as well as prescribe medication. In Ontario there are 2,400 nurse practitioners, and approximately 800 work in hospitals. There are 55 nurse practitioners currently working at LHSC.
Three phases of research constituted the study, the provision of patient centred care, evidence based care, and inter-professional care, with the overall goal of examining the contribution nurse practitioners make to high quality patient care. A number of different methods were used to collect data, surveys, interviews, direct observation and review of routine data from hospitals on patient outcomes.
The study found that patients receiving holistic care from a nurse practitioner, in collaboration with other health care providers, experience better health outcomes and require fewer health services after being discharged. In addition, patients' receive care faster because the nurse practitioner uses open communication and is able to make timely care changes that result in a seamless flow through the system.  Also found was that nurse practitioners collect, filter and prioritize information, engage the right team member at the right time for the right reason, and talk with patients and their families to enable a return to an intact meaningful life.
This study is the first of its kind to measure the impact a nurse practitioner has on the health and well-being of a patient, and was made possible through a $1.5 million grant from the Ministry of Health and Long-Term Care.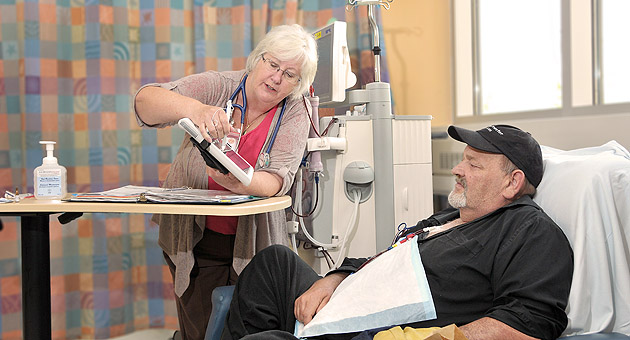 LHSC's Tina Hurlock-Chorostecki, Nurse Practitioner, Adam Linton Dialysis Unit, VH shares with her patient Leo the next steps in his care plan.