October 17, 2013
When an illness or injury has occurred, occupational therapists (OT) analyze how an individual's ability to carry out specific activities has been impacted. This includes carrying out basic tasks like washing, getting dressed and fed, to more complex tasks like engaging in leisure pursuits and/or work requirements.

If limitations are discovered, OT's then determine how to enable the person to accomplish these tasks.
Using expertise and a great deal of creativity, OT's find a way to enable the person to work towards the goals important to them. This can include:
using activities to regain strength or movement;
teaching cognitive or behavioural strategies to help with planning and executing tasks;
dealing with emotional barriers;
modifying how an activity is done; or,
suggesting equipment or a modification to the environment to promote safety and success.
At LHSC occupational therapists work with patients in nearly every clinical area. Despite the different needs of these patient groups, the OT's focus on function and daily tasks remains the same.
There are 38 occupational therapists and 8 occupational therapists' assistants employed at LHSC, who were involved with over 12,500 patients last year - helping them to regain independence and facilitating their discharges from hospital. 
In addition to patient care, OT staff is active on CQI councils and are also active members of the OT quality improvement program, which:
·         brings staff from both Victoria and University Hospital together for professional development,
·         enhances student learning experiences,
·         ensures standards of care,
·         develops evidence informed resources and protocols
·         enables meeting infection control measures and
·         provides a sense of community and connectedness across the organization.
The OT QI program has been in existence for over 35 years and is a vital and valued part of OT at LHSC.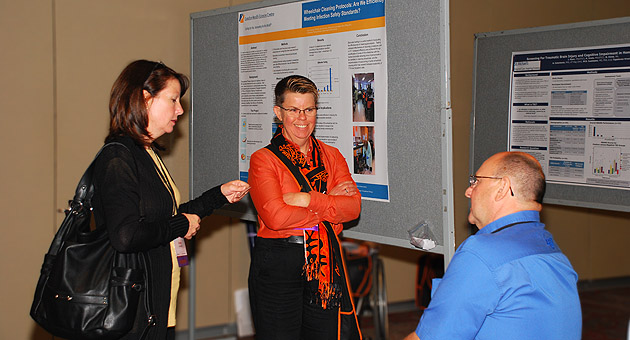 Jane Cox, Manager Occupational Therapy Practice (right) and Kathy Vosdingh, Occupational Therapists Assistant (left) discuss their work on evaluating wheelchair cleaning procedures at the recent Ontario Society of Occupational Therapists conference
Recently, national and provincial conferences displayed some of the work of the QI Program. The development of a new OT role in the emergency department was presented at the Canadian Association of Occupational Therapists annual conference in Victoria, British Columbia and the Ontario Society of Occupational Therapists (OSOT) conference in London in September.
At the OSOT Conference, a project focused on ensuring that OT wheelchair cleaning procedures effectively and efficiently met infection safety standards was highlighted, along with a presentation on a new strategy that allows OT assistants increased time to provide patient care.
Please join us as we celebrate National Occupational Therapy month throughout October. Take the opportunity to get to know your occupational therapy colleagues a little better. To find out more about OT, check out www.otworks.ca