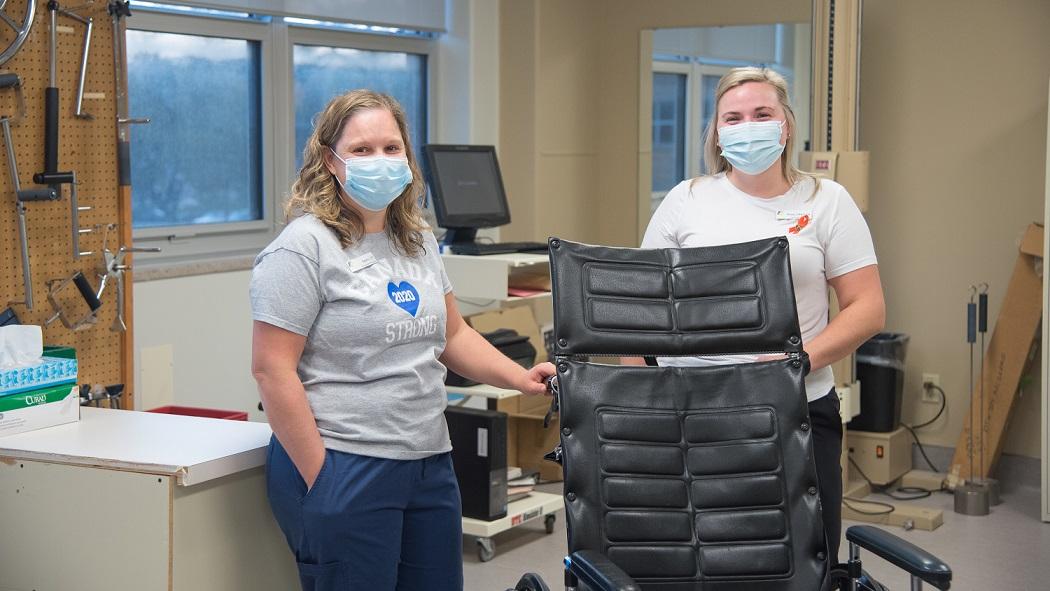 Katrin Klein and Kristi Morris work in Occupational Therapy at LHSC.
October 27, 2020
"Making everyday possible"
This is Occupational Therapy month, and the Ontario Society of Occupational Therapists has chosen a theme this year of "making the everyday possible". At London Health Sciences Centre a team of 70 Occupational Therapists (OTs) and Occupational Therapy Assistants (OTAs) work with patients throughout the hospital, aiming to do just that – helping them regain independence and maximize function in their day-to-day lives.
"Our OTs and OTAs have a pretty broad scope of work," says Karen Tomlin, Manager of Occupational Therapy. Occupational Therapists take a holistic approach to their patients, explains Tomlin. "They look at various factors including perceptual, cognitive, psycho-social and physical supports patients may need once they are discharged. They identify barriers that may be preventing the patient's independence, and then ensure those supports are in place to help facilitate a successful discharge home from hospital."
The emergence of COVID-19 within the hospital meant protocol changes such as enhanced PPE requirements for staff, and precautions when working with patients. For OTs and OTAs, it also meant the nature of their work shifted as the resources they relied upon outside the hospital changed or modified the way they provided services.
Kristi Morris, an OTA working in the sub-acute medicine and palliative care units at Victoria Hospital shares, "it was difficult finding resources in the community to support our elderly population who were worried about doing their banking or getting groceries, things they would normally do in person." With the restrictions on shopping and a move to more virtual environment, the impact on the patients she cares for were noticeable. Morris worked with vendors to ensure what was available for patients and how the services were being provided.
For Katrin Klein, an OT also at Victoria Hospital, every day is a new day. Klein's role involves working in various areas of the hospital as needed, helping to assess patients who are ready for discharge. This includes ambulatory patients in the Emergency Department who often times are older and at a particularly higher risk for household dangers such as falls. "During the first wave of COVID-19, we saw a lot of patients from retirement homes and seniors' buildings who were particularly vulnerable to weakness and falling because of the effects of COVID-19. We worked with them to find the right techniques and equipment that would help them be more independent."
COVID-19 has required a full team effort throughout the hospital, and that is no different for the OTs and OTAs who have been asked to work collaboratively with colleagues from other professions in helping patients, particularly those in critical care, maintain the range of motion in their joints while they are bedridden. Says Klein, "we're fortunate that everyone works well together in our hospital, because it not only makes our work more seamless, but it benefits our patients in the long run."
Morris agrees, "we have wonderful team, all helping to keep each other safe and accountable. We came together, and we've made it this far."
OTs and OTAs at LHSC are making everyday possible for patients and ensuring exceptional quality and safety, even during the pandemic.