February 5, 2018

February 1-7 marks Eating Disorders Awareness Week. This annual, nation-wide awareness week is designed to bring to light the prevalence and risks of Eating Disorders (ED) in order to improve supports for those suffering with Eating Disorders. This year's theme is "One Size Doesn't Fit All," highlighting that eating disorders can affect individuals of all genders, ages, races and ethnic identities, sexual orientations and socio-economic backgrounds.
Research indicates that the prevalence rate of eating disorders affects between two and three per cent of the population. While a large focus of education and research has been on the 15-24 year old age group, eating disorders can affect anyone.
"In reality, eating disorders can affect people of all ages, shapes and sizes," says Wendy Pearson, a Registered Psychotherapist and Eating Disorder Specialist with LHSC's Adult Eating Disorder Service.
"There is a common misconception that you can look at someone and tell they have an eating disorder. This is not always true," says Pearson. "People can be very unwell no matter what their body size is."
London Health Sciences Centre recognizes the need for treatment for all age groups and is proud to offer eating disorders programs that care for adults, as well as children and adolescents.
The Child and Adolescent Eating Disorder Program at LHSC provides clinical services for children and youth up to 18 years of age. This multidisciplinary team consists of a psychiatrist, pediatrician, psychologist, dietitian, social worker, nurse case manager, and child and youth workers. After an initial assessment with the team, the patient and family receive treatment in one of three areas – outpatient, day treatment, or inpatient. Outpatient services offer family-based treatment known as the Maudsley Approach. In the day treatment program, patients are involved with group therapy, individual therapy, family therapy, and meal support. The inpatient service provides more intensive support.  In addition to the treatment team, patients and families are also supported by inpatient nurses and child and youth workers.
The Adult Eating Disorders Service (AEDS) is a community based program provided by London Health Sciences Centre and the Canadian Mental Health Association (CMHA) Middlesex. The eating disorders treatment program is nestled in the community setting at 54 Riverview Ave., rather than in hospital. Individuals interested in our program can speak with their physician to be referred. Once a referral is received, people are seen within 4-8 weeks for an assessment. We offer intensive day treatment with or without residential treatment, and individual outpatient treatment, making treatment much more accessible to people who were previously unable to take time off work or school to attend our intensive program. 
Eating Disorders in Canada
An estimated 1 million Canadians would meet the diagnostic criteria for an Eating Disorder. 
Eating Disorders have the highest death rate of any mental illness; 1 in 10 people with Eating Disorders die from their disorder. 
Suicide is a major cause of death among individuals with Eating Disorders.
Eating Disorders are serious mental illnesses associated with significant medical complications that affect every organ system in the body. 
Many people with an Eating Disorder never get diagnosed, and suffer significant personal and family distress. 
Eating Disorders are not a choice. They affect all genders, ages, racial and ethnic identities, sexual orientations and socio-economic backgrounds. 
More than 1 in 5 Canadian teenagers are on a diet at any one time, putting them at risk for an Eating Disorder. 
The provincial costs associated with patients who have anorexia nervosa and are on long-term disability may be as high as $101.7 million/year – 30 times the cost of all provincial specialized Eating Disorders services. 
Too many Canadians suffering from Eating Disorders do not have reasonable access to timely, comprehensive and specialized treatment. 
Early detection and intervention can result in full recovery from an Eating Disorder.
(Prepared by the Ontario Community Outreach Program for Eating Disorders (2011) and updated by the National Initiative for Eating Disorders (2017)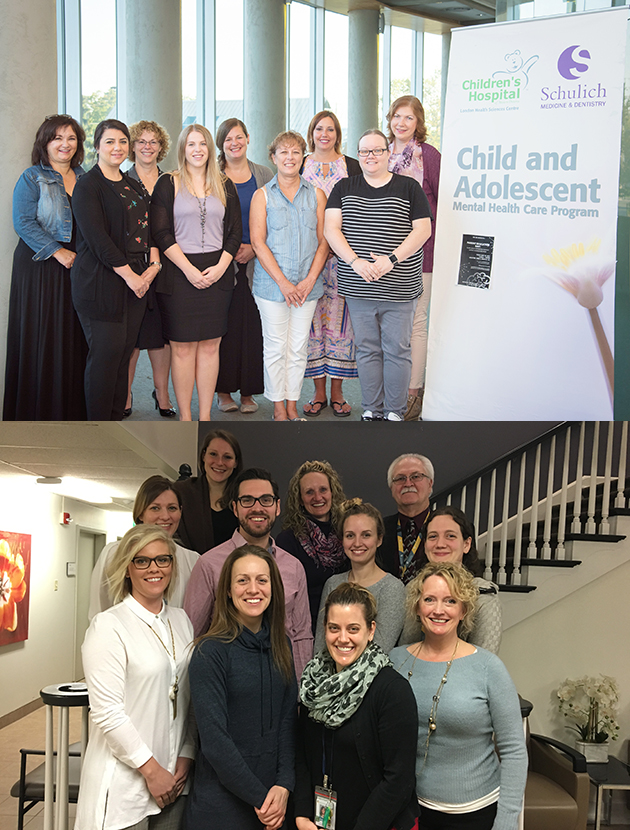 Members of LHSC's Child & Adolescent Eating Disorder Program (top), and LHSC's Adult Eating Disorders Service (bottom).