Raise awareness for the Period of PURPLE Crying and announce photo contest for newborns
October 17, 2014
Today, representatives of the Ontario Paramedic Association (OPA) travelled to London Health Sciences Centre (LHSC) to make a substantial donation - over 200 purple caps knitted by its members. Representing over 1500 paramedics from across Ontario, OPA is committed to promoting injury prevention and raising awareness for Shaken Baby Syndrome.
Donated purple caps will be given to newborns in support of The Period of PURPLE Crying® program at LHSC throughout the month of November. Proudly supported by Children's Health Foundation, the program educates parents and caregivers about infant crying patterns and coping strategies.
"Paramedics are often the first responders in cases of trauma to newborns and infants," explains Glen Gillies, Executive Secretary, Ontario Paramedic Association. "We are delighted to partner with LHSC to raise awareness of the Period of PURPLE Crying and support Ontario communities, paramedics and emergency medical dispatchers."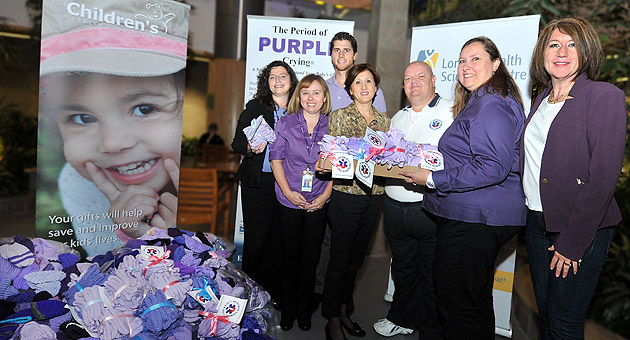 From left, Ann Turcotte, Coordinator, LHSC Trauma Program; Kelly Barzsa-Jenkins, Perinatal Nurse Consultant; Brandon Batey, LHSC Injury Project Associate; Silvie Crawford, Vice President, Patient Centred Care, LHSC; Glen Gillies, Executive Director, Ontario Paramedic Association; Robin Gillies, Emergency Medical Dispatcher; Tanya Charyk Stewart, Injury Epidemiologist, LHSC's Trauma Program.
Robin Gillies, who coordinated OPA's cap donation, works as an Emergency Medical Dispatcher answering emergency calls and dispatching paramedics. Having had experiences with shaken baby syndrome and abusive head trauma through her work, Robin wanted to help prevent these kinds of injuries from occurring.
She felt compelled to start knitting caps and donating to the campaign, led by LHSC's Trauma Program. Along with her mother, Robin donated 100 purple knitted caps in 2012. Then, partnering with the OPA, Robin arranged for the donation of over 200 caps to LHSC this year.
"LHSC, including Children's Hospital, the Trauma Program and Women's Care, extends our sincere thanks and appreciation for the Ontario Paramedic Association's generous donation of purple caps," says Ann Turcotte, Coordinator, LHSC Trauma Program. "OPA's donation and support for the program highlights the important partnership between health care professionals, first responders and our patients."
OPA's paramedics weren't the only ones to answer LHSC's call for knitters made in September. Knitters and crocheters from across the region and beyond donated an additional 2,400 purple caps. "We are overwhelmed by the kindness and thoughtfulness of those who donated their time, skills and fabric," says Jane Harrington, LHSC Injury Prevention Specialist. "Thank you for taking great care in making purple caps for babies and helping us spread an important message to new parents and caregivers."
In total, over 2,600 caps were donated in 2014. Since 2011, over 15,500 handmade purple caps have been donated by community members.
New this year, LHSC will be holding a social media photo contest in support of The Period of PURPLE Crying program. Parents and caregivers of babies who receive a purple cap during the month of November 2014 can enter to win a newborn photo shoot with Laura Rowe Photography.
To enter, photos of newborns wearing the purple caps will be shared on Facebook, Twitter and Pinterest using the hashtag #LHSCPurpleCap. Full details are available at www.lhsc.on.ca/purple.