September 22, 2014
London Health Sciences Centre is home to the first Ontario Tumour Bank site, established 10 years ago in September. On Sept. 19, OTB staff were joined by representatives from the Ontario Institute of Cancer Research, Lawson Health Research Institute and London Health Sciences Centre for a 10th anniversary celebration.
As home to the first OTB site, over the past decade LHSC has collected more than 10,000 tumour samples that have been shared with researchers across the globe.
"The tumour bank is extremely important for research purposes," says Dr. David Hill, Scientific Director at Lawson Health Research Institute, the research arm of LHSC.  "It provides our researchers with high-quality biospecimens and data that are essential for developing better diagnostic tools and new therapies for cancer, helping our researchers reach their goal of providing better care for our patients."
With multiple sites across the province, OTB is now one of the largest cancer biorepositories in Canada. To date the bank has collected over 111,000 biospecimens from over 14,000 patients and has filled 297 requests from researchers through the release of more than 31,000 samples. The samples it provides have been integral to groundbreaking cancer research both in Canada and around the world, including five high-impact publications in the journal Nature by The Cancer Genome Atlas.
"I am proud to congratulate the Ontario Tumour Bank on its first 10 years of operation," said Reza Moridi, Ontario Minister of Research and Innovation. "The OTB provides an incredible service to cancer researchers in Ontario and around the world. And it is helping fuel the next generation of more personalized cancer medicine. Ontario's strategic investments in research collaborations like the OTB are positioning the province as a global leader in life sciences and will improve the lives of patients who suffer with cancer."
"When OTB was established 10 years ago, the biobanking of tumour samples for research was a new idea for Ontario, and it was an incredibly important one," said Dr. John Bartlett, Provincial Principal Investigator for the Ontario Tumour Bank and Director of the Transformative Pathology Program at the Ontario Institute for Cancer Research. "The ongoing support of our partners in Hamilton, Kingston, London and Ottawa and the hard work of OTB staff across the province have been key to OTB's success, and have ensured we are well positioned for continued success in the future."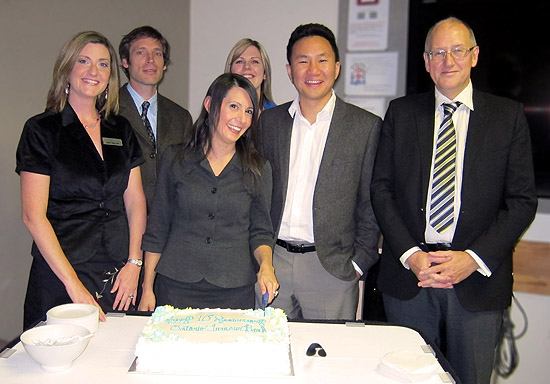 Representatives from Lawson Health Research Institute, London Health Sciences Centre, the Ontario Tumour Bank (OTB), and Ontario Institute of Cancer Research celebrate the Ontario Tumour Bank's 10th anniversary with cake. Pictured front row are: Lee-Anne Pickard, Clinical Research Associate with LHSC/OTB; Monique Albert, Director of OTB; Dr. Hon Leong, Scientist with Lawson; and Dr. David Hill, Scientific Director of Lawson and Integrated VP of Research at LHSC and St. Joseph's Health Care London. Pictured back row are Dr. Jeremy Parfitt, Principal Investigator, London branch of OTB; and James Sinfield, Pathology Research Assistant with LHSC/OTB.