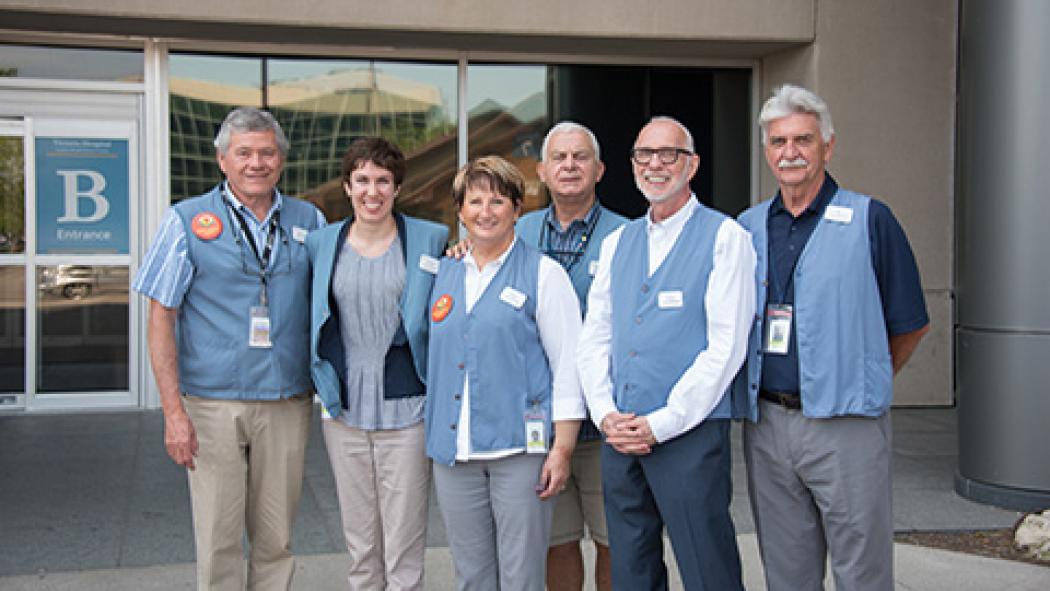 April 10, 2019
Volunteers exemplify the values of LHSC in their everyday interactions with physicians, staff, patients, visitors and with each other. They place patients at the centre of everything they do and they are guided by compassion, teamwork, curiosity and accountability.
Dawna VanBoxmeer, Director, Critical Care, LHSC, has close to 50 volunteers who support the CCTC and ICU. "Our volunteers demonstrate the very best of LHSC's values. They are driven by compassion for others, they help us improve our processes, they are valued members of our teams, and they are committed to doing their best for us, our patients and their families," she says.
Volunteers Judy Guest, Don Blay, Sandra Retzer, and Cindy Gibbs will share how they live LHSC's values during a live interview panel at the Volunteer Appreciation Luncheon.

Compassion
Judy Guest volunteers with the Child Life Program and is a 20-year long service award recipient. For Guest, a retired school teacher, "compassion is empathy for the sufferings of others combined with a desire to help that defines my attitude and behaviour when I volunteer at the hospital." 
She exemplifies compassion by offering family members some respite from their caregiving duties by playing games and making crafts with children of various ages. Children benefit from the distraction away from their daily medical routines.
She helps the larger paediatric community by helping with special events, like the Teddy bear picnic, super hero day, and Halloween and Christmas parties. "The gratitude, the relief, the laughter and the smiles that I see are treasures to me, and what keep me coming back week after week, year after year for the past 20 years," she says.

Teamwork
Don Blay volunteers as a guide and in the Orthopaedic Outpatient Clinic and is a five-year long service award recipient this year.
Blay was part of a team from the moment he contacted Volunteer Services. "They worked with me to find a good fit for my volunteering. I was then fortunate to do my guide training with my friend and mentor Ross MacDonald. When I trained at additional guide stations, I was again fortunate to work with other seasoned volunteers. Teamwork arises every day, as I work closely with so many departments in the hospital on every shift including Portering, Switchboard, Patient Registration, Volunteer Services, and with my fellow guides," says Blay.
In the Orthopaedic Outpatient Clinic at Victoria Hospital, Blay works as part of the team to help patients into clinic rooms and to help the clinic run efficiently.  "I work with an amazingly friendly and hardworking team composed of Janice, the doctors, and their assistants whose offices are located adjacent to the clinic," adds Blay.

Curiosity
Sandra Retzer volunteers in the Critical Care Trauma Centre at Victoria Hospital and is the Chair of the Volunteer Advisory Council. Sandra believes the behaviour statements associated with the value of curiosity are well suited to her involvement with the council: giving myself and others permission to question, and a freedom to explore and pursue new ways of achieving excellence; respectfully challenging traditional thinking and encouraging experimentation; listening without judgment; being open to the fact that others bring important and valuable perspectives to a situation; and, fostering and valuing a learning culture and environment.
Members of the Advisory Council represent a cross section of all volunteer roles at Victoria and University Hospitals. "As a volunteer since the inception of the Volunteer Advisory Council, I continue to value and really appreciate the different and varied perspectives each member brings to our discussions on many topics. In concert with Volunteer Services staff and as a result of our great discussions, collectively, we arrive at the best solutions. By having these discussions we can see many positive changes and improvement initiatives that enhance the experience of all LHSC volunteers," says Retzer.

Accountability
Cindy Gibbs volunteers in Victoria's Place Gift Shop, is the Vice President of the Auxiliary, and is a five-year long service award recipient this year. She exemplifies accountability by ensuring that the gift shop is a friendly and safe environment for patients, staff and volunteers.
Gibbs ensures that the gift shop is physically accessible for all patients, listens to their stories or concerns while maintaining confidentiality, and ensures she is knowledgeable about urgent hospital notifications, safe practices, and procedures. "Following these behaviours allows me to perform my volunteer role ethically, professionally and with great integrity," she says.
Furthermore, through her role with the Auxiliary, she has committed to being a responsible steward of fundraising resources entrusted to the Auxiliary. "One of the main functions of the Auxiliary is to raise funds for the betterment of health care provided by LHSC. We have pledged $2.24 million dollars to research for Personalized Medicine," she explains.