July 2, 2015
The fourth annual Fanshawe Dragon Boat Festival was held on June 13 at the Doug Wells Rowing Centre on Fanshawe Lake. This annual event is organized and hosted by the Rowbust Breast Cancer Survivor Dragon Boat Team, and is co-chaired by Linda Kuska and Loraine Warnock from LHSC. 
There is traditionally a large health-care presence at this festival and this year proved no exception – of the 60 teams participating (representing more than 1,500 paddlers!), 16 were representing health care. This was the third year where health-care teams competed to win the Health Care Cup, won this year by Remission Possible from LHSC's London Regional Cancer Program with a time of 2:24:01.
In addition, the team that raised the most money was Just Stroke It for the second year in a row. 
The many aptly named health-care teams were:
Blades of Glory – IT department, UH
Dragon Along – Canadian Mental Health Association
Fore Waters – Birthing Centre, VH
ICU In Our Wake – CCTC, VH
Indecent X-Posure – Radiology, UH
Just Stroke It – Pre-admission, UH
Kicking Cancer for Kids – Children's, VH
Life Savers – Multi-Organ Transplant Program, UH
People in a Boat – Pharmacy, UH
Phlegm-ish Vikings – Respiratory Therapists and nurses 
Remission Possible – LRCP, VH
Skeleton Crew – Ortho, VH
St. Joe's Operating Room
Sync or Swim – South West CCAC
Team Medicine - UH
Team XOXOXO – St. Joseph's
This event is a fundraiser for both the Rowbust team and the Gene Goodreau Foundation through the London Health Sciences Foundation. This year more than $7,700 was raised for the Gene Goodreau Foundation, putting the grand total for the past three years' contribution to $20,000 for the fund.
"The festival this year was amazing," says Warnock. "We received lots of positive feedback from spectators and participants. We could not have asked for better weather. We are truly blessed to have fabulous volunteers who make this a great event."
Warnock adds that the festival would not be possible were it not for the generous sponsors and numerous in-kind donors.
Good luck to the members of Rowbust who are now busy training and preparing for Nationals. They look forward to attending Worlds in Adelaide, Australia in April 2016 where they plan on defending their world title after bringing home three gold medals from Ravenna, Italy in September 2014. 
For more photos taken from the event visit http://photogsforcharity.webs.com/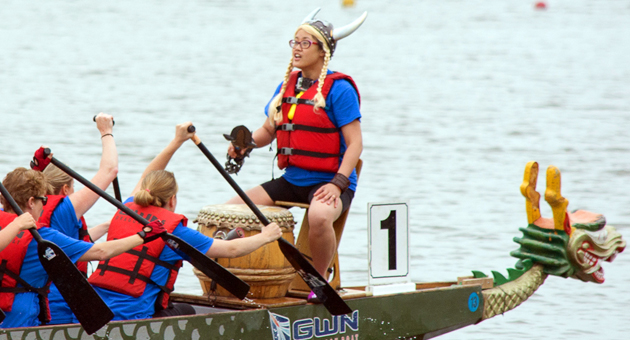 There were more than 16 health-care teams in the fourth annual Fanshawe Dragon Boat Festival, including the Phlegm-ish Vikings made up of respiratory therapists and nurses from LHSC, St. Joseph's, Stratford and Strathroy. Photo credit to Jun Qin, Photographers for Charity.