June 22, 2016

The fifth annual Fanshawe Dragon Boat Festival was held on June 11 at the Doug Wells Rowing Centre on Fanshawe Lake. This annual event is organized and hosted by the Rowbust Breast Cancer Survivor Dragon Boat Team, and is co-chaired by Linda Kuska and Loraine Warnock, both RNs at LHSC. 
There is traditionally a large health-care presence at this festival and this year was no different – of the 53 teams participating (representing more than 1,300 paddlers!), 13 were representing health care. This year's Health Care Cup was won by Indecent X-Posure, comprised of paddlers from UH Radiology.  
The team that raised the most money was brand new to the competition this year – Carrie's Tribe, inspired by Carrie Thornton – who raised an incredible $6000 for the ACT Now Fund. 
The 13 playfully named health-care teams were:
Dragon R Bootie: Peri-Operative Day Care VH - winner of the "C" Consolation Division 
ICU in our Wake: CCTC VH
Indecent X-Posure: Radiology UH - winner of the Health Care Cup
Ivey Eye Candy: Ivey Eye Institute SJHC - winner of the "E" Consolation Division
Just Stroke It: Pre Admit UH
Medical Lifesavers: Medicine UH
People In A Boat: Pharmacy UH
Phlegm-ish Vikings: Respiratory Therapists from LHSC and SJHC
Remission Possible: London Regional Cancer Program at LHSC
Smooth Operators: Operating Room SJHC
Team XOXOXO: SJHC
Tip'n'It: General Surgery VH
Skeleton Crew: Ortho VH (inpatient & outpatient), Radiology VH, Information Technology - winner of the "B" Consolation Division
This event is a fundraiser for both the Rowbust team and the ACT Now Fund through the London Health Sciences Foundation. This year more than $10,000 was raised for the ACT Now Fund, putting the grand total for the past three years' contribution to $25,000 for the London Regional Cancer Program.
"This year's festival was special since it was our 5th anniversary of the festival, but the day had an overall feeling of 'JOY'!," says Kuska. "It was a day where people just had 'old fashioned fun' while getting some exercise and enjoying the sport of dragon boating. Sometimes, there is just not enough "FUN" in our lives and this is a day that you can just relax and get out on Fanshawe Lake and be a kid!" 
For more photos taken from the event visit http://photogsforcharity.webs.com/ 
Registration for the 2017 Dragon Boat Festival will open in January, so get your teams together soon!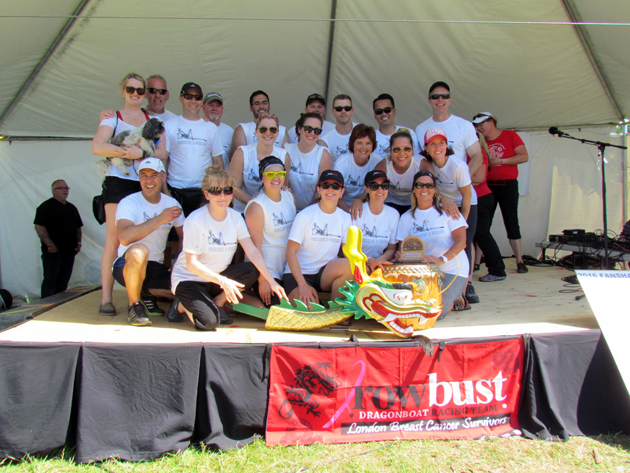 This year's Health Care Cup winning team Indecent X-Posure accepting their prize. Photo credit to Donna Currie.