June 20, 2017

The sixth annual Fanshawe Dragon Boat Festival was held on June 10 at the Doug Wells Rowing Centre on Fanshawe Lake. This annual event is organized and hosted by the Rowbust Breast Cancer Survivor Dragon Boat Team, and is co-chaired by Linda Kuska, an RN in the Ortho Clinic at Victoria Hospital and Loraine Warnock, also an RN, who recently retired from LHSC. 
There is traditionally a large health-care presence at this festival and this year was no different – of the 50 teams participating, 12 were representing health care. This year's Health Care Cup was won by Remission Possible, comprised of paddlers from the London Regional Cancer Program.  
New this year was a 200m Breast Cancer Survivor Fun Race, which concluded with a touching Flower Ceremony in which the teams honoured those who have been taken from us by breast cancer, and celebrated those who are thriving post-treatment. 
The 12 playfully named health-care teams were:
The ICU Drips - ICU at UH
The Kidney Failures - Nephrology VH
Forewaters - Birthing Centre  VH
Heart Breakers - Cardiology UH
ICU in our Wake - CCTC VH
Remission Possible - London Regional Cancer Program – winner of the Health Care Cup
In-Vit-Rowers - Fertility Clinic UH
Skeleton Crew - Ortho Clinic VH with a little help from some friends
Smooth Operators - Operating Room, St. Joes
Lifesavers - Medicine UH
Phlegmish Vikings - Respiratory Therapists VH and St. Joes
Team XOXOXO - St. Joes
This event is a fundraiser for both the Rowbust team and the ACT Now Fund through the London Health Sciences Foundation. This year more than $13,000 was raised for the ACT Now Fund, putting the grand total for the past three years' contribution to $38,000 for the London Regional Cancer Program.
"We are proud of this program because every single Rowbust member has been treated at the London Regional Cancer Program, and this fundraiser allows us to support other cancer patients being treated there," said Kuska. "At the end of the day, we want everyone to have fun, get away from their computers for the day, get some exercise, have a day of team building and just a day to smile and just be happy!"
For more photos taken from the event, visit the event's Shutterfly or Facebook pages.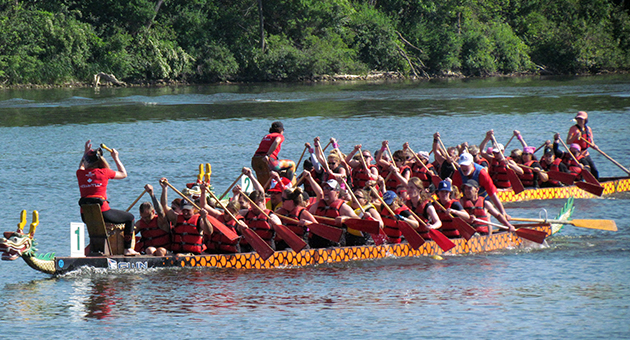 There were 12 health-care teams in the sixth annual Fanshawe Dragon Boat Festival. Photo credit to Brenda Pentland.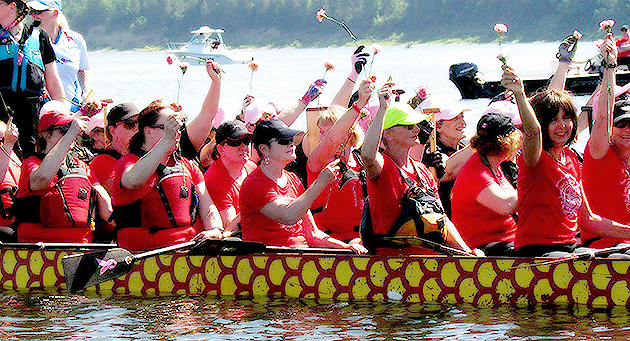 Flower ceremony to remember those lost to breast cancer and celebrate those thriving post-treatment. Photo credit to Donna Currie.