July 4, 2014
For the second year in a row, an aptly named team of paddlers have taken home the Health Care Cup at the Fanshawe Dragon Boat Festival. Congratulations go to Indecent X-Posure, a group of employees from the radiology department at LHSC's University Hospital who had the fastest paddling time of the 13 hospital teams participating.
The third annual Fanshawe Dragon Boat Festival was held on June 14 at the Doug Wells Rowing Centre on Fanshawe Lake. This annual event is organized and hosted by the Rowbust Breast Cancer Survivor Dragon Boat Team, and is co-chaired by Linda Kuska, an RN in the ortho clinic at Victoria Hospital, and Loraine Warnock, RN and coordinator of Medicine at University Hospital.
More than 57 teams (that's 1,300 paddlers!) participated in this one-day event including seven junior teams (ages 11-17) and 13 hospital teams that included more than 300 employees from LHSC and St. Joseph's Health Care London. The Health Care Cup was presented by Dr. Tracy Sexton, a radiation oncologist and Rowbust team member.
This event is a fundraiser for both the Rowbust team and also the Gene Goodreau Foundation through the London Health Sciences Foundation.
"Our goal this year for the Gene Goodreau Fund was to raise $8,000 and we raised $9,390!" say Kuska and Warnock.
"Rowbust has been so blessed by our community in the past 15 years and want to share our love of dragon boating to our community. Our goal is to get people outside, get them away from their computer, enjoying Fanshawe Lake, getting some exercise and just having some good old-fashioned fun!"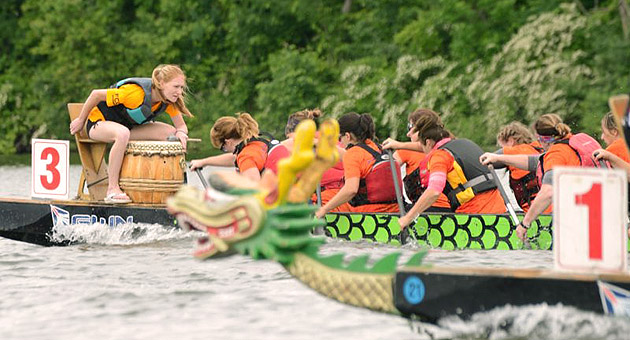 Congratulations to all of the paddlers in the third annual Fanshawe Dragon Boat Festival, including the 13 hospital teams

!
Kuska and Warnock note that this event would not be possible without the support of the many sponsors. "Thank you for all of the teams who support us by participating in this event or come out and watch this event!"
The team that raises the most wins free entry into next year's event and this year's winning team was "Just Stroke It" from University Hospital who raised $3,000.
Congratulations to all of the paddlers, including those on the hospital teams:
Blades of Glory- Crush

Eye Candy

Fore Waters

Indecent X-Posure

Just Stroke It

Kings Quest

Remission Possible

Skeleton Crew

Team XOXOXO

The Paddle Wagon

The Paddle Virgins

The Strokes
Best of luck to Rowbust who will next compete at the Canadian National Championships in Welland, Ont. (July 4-6), then the Club Crew World Championships in Ravenna, Italy (Sept. 2-7) and the International Participatory Festival in Sarasota, Florida (Oct. 24-26). 
For more photos taken from the event visit http://photogsforcharity.webs.com/.