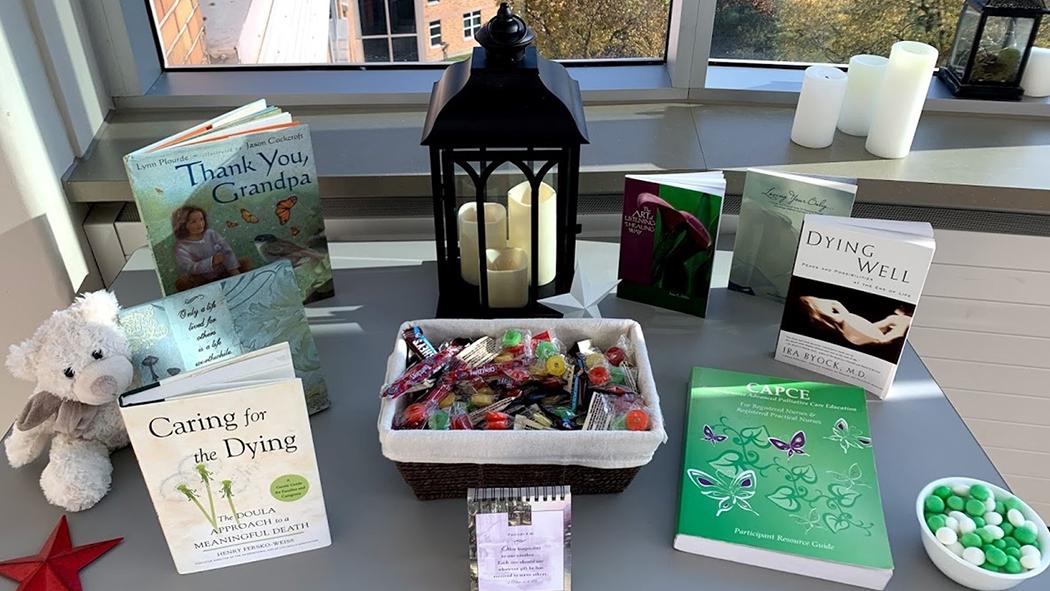 July 27, 2021
On June 18, the Creating Memories at End of Life working group at London Health Sciences Centre (LHSC) held their workshop, "Palliative Care and Creating Memories at End of Life Virtual Workshop" for the third time. This year was virtual because of the continued pandemic response, but that became an opportunity as health care providers, teachers, and many others from across the country were able to attend.
The virtual workshop mirrors the 2019 workshops that were offered in-person and included parents sharing their experiences, health care providers talking about the different aspects of palliative care, supporting families, and involving siblings of the palliative child, what happens in emergencies, and demonstrations of what happens in end of life care, among other topics. One of the goals of the workshop is to highlight the human aspect of palliative care with input from parents and siblings who have experienced loss.
Chantal Singh, Professional Practice Consultant, explains, "The parents shared what was most meaningful to them in their moments with their children. These lived experiences were very insightful because it gave us things to reflect on as health care providers on what we can use to inform our practice." Some examples of the demonstrations include molds or embossing of the child's hands and feet, and a music therapist who records the child's heartbeat and incorporates it into a song.
The workshop began with honouring the names of those in the hearts of attendees, parent speakers and the committee, and closed with celebrating the caregivers for their work. Breen says, "It wasn't only the professional caregivers who were celebrated, but the parents and loved ones who also care for someone. We were using the term caregiver in a broad sense because each caregiver role, whether personally or professionally, has its importance."
"Often when someone is dying, we try to help people understand it's not doing stuff that's most important, but being present. The demonstrations reinforce creating memories at end of life are about the four components which we call REST." Breen explains, "REST stands for: relationships, which focuses on building relationships with families, experiences, where the focus is on the kinds of experiences we can create when there is no second chance, symbols are things we can create for memories like the molds and embossing, and time focuses on the amount of time the family needs to do what's meaningful to them."
Sue MacLean, Social Worker, believes this workshop is beneficial to departments outside of palliative care, "It would be ideal for us, especially in a hospital setting, and in an ICU, to talk about death just as easily as we talk about life. Often, we can feel like we need to solve or fix the grief that families are experiencing due to our own discomfort. Ultimately, we need to realize that there is no 'fix' and there is never closure with a loss so profound. Trying too hard to find the right things to say can actually inflict damage. Listening, caring, and simply being steadfastly present in the darkest moments, more aptly demonstrates the authenticity of our compassion."
Another goal of the Creating Memories at End of Life working group is to begin to normalize the difficult end of life conversations for both staff and families. Breen states that another of the working group's goals, "is to help people to be comfortable with their discomfort. Each family is unique with different values and experiences, and you may never over get over the discomfort of caring for someone who's dying. But it is important to learn to be comfortable with discomfort. As ICU nurses, when it comes time to provide palliative care, some think our role as healer is over, but really, our role as healer is just beginning in a more profound and impactful way.""
An important aspect to the workshop was the inclusion of parents and siblings who shared their experiences in creating memories at end of life. Bronagh Morgan, parent and Director of Bereaved Families of Ontario Provincial, who also serves as a Patient Advisor to the Quality and Performance and Ethics Committees at LHSC and formerly served on the Finance and Audit Committee, says, "I shared my experience in the presentation that focused on families whose children lived short lives. My role was to be that person who shows grief to show that people that are grieving are not some other weird thing to be afraid of, we're human beings going through a hard time and we can all relate to that. It's an educational piece to have a parent grieve in front of staff to show that people deal with things in different ways and sometimes it looks like crying after 11 years - like for me. The larger goal in this workshop is to create a more grief informed society."
Another parent, Sheila, shared her thoughts after her child and the family received care many years ago. "I think it's important for health care providers to never stop learning how to help families. They can't just focus on the medical side of things, they have to focus on mind, soul, and spirit of the person and family. And even though families move forward, different developmental stages of life bring back that loss. It reminds us of the gap that's there."
When staff put effort to personalize the experience and respond to the family's individual needs, Sheila expresses how important those memories become. "All those little memories are so important so many years later. It's been 13 years since lost I lost my child and I'm still grateful to this day for the care we received from staff," Sheila says.
Moving forward, the group hopes to continue the work after establishing this area as an identified need within health care settings and beyond. The working group looked for funding themselves which allowed them the freedom to think outside of the box and organize ways to educate staff as well as honour the memory of patients. There were many components to the group's initial proposal that they've been able to implement including these workshops. Singh says, "There is still stigma around palliative care, and we, as a working group, are hoping and working toward a culture shift about this within LHSC and outside the organization. We need to build capacity within each other and staff to keep this work moving forward."
When it comes to impact of creating memories at end of life and palliative care outside of health care organizations, Morgan shares, "Death impacts everyone. Being better at dealing with and talking about death and grief is essential, especially for health care. This area impacts every single person regardless of who you are, where you live, how you worship, so it's easy to get people to attend these workshops – this subject matter touches everybody."