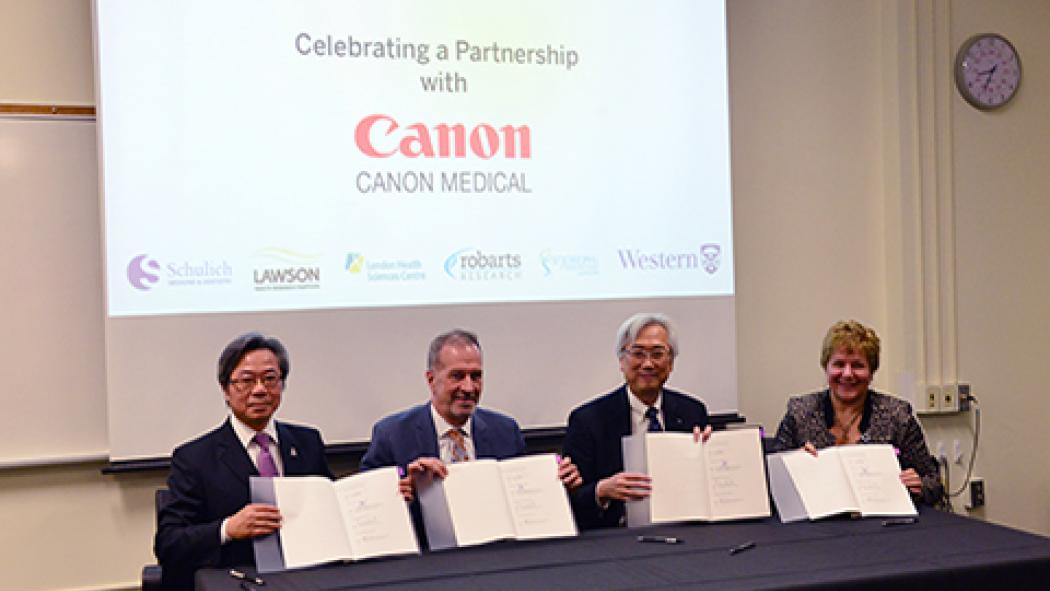 March 15, 2019
On March 12 London Health Sciences Centre (LHSC), St. Joseph's Health Care London, and Western University announced the formation of a unique partnership with Canon Medical Systems Canada in advanced Computed Tomography (CT) that will advance patient care, research and teaching in southwestern Ontario.
Building on established excellence in medical imaging, this new partnership includes the investment of a $4.5 million dedicated research CT, Angio Suite and portable ultrasound machine to be used for medical imaging research. London will also become home to the world's largest installation of the most advanced CT platform from Canon Medical.
"London has an international reputation as a leader in medical imaging, and we are celebrating a partnership that will build on that foundation of imaging excellence," says Dr. Narinder Paul, Chair/Chief, Medical Imaging at LHSC, St. Joseph's, and Western's Schulich School of Medicine & Dentistry. "Thanks to Canon's investment, we will, for the first time, have the same CT equipment being used for patient care as we are using for research."
CT is used to provide critical diagnostic information through combination of thousands of ultralow dose, high resolution X-ray images to create cross-sectional images of the brain, the heart, lungs, abdominal and pelvic organs, and of the blood vessels. CT provides essential imaging for most medical and surgical emergencies and is the standard of care for routine assessment and evaluation of patients with a wide range of conditions including many cancers. CT is also used to guide interventions for diagnosis through obtaining tissue biopsies, and is used to guide minimally invasive treatment.
Because the research CT will exactly mirror the equipment used clinically, it will allow researchers to more quickly and readily apply their research findings to patient care. The research in London will focus on improving patient safety by finding ways to lower radiation dose, developing faster and more detailed imaging techniques, and personalizing the patient experience.
The partnership with Canon Medical also provides the opportunity to establish a training academy and a Canon Medical National Centre of Excellence in London. As new advanced CT protocols are developed and validated here, hands-on training will be provided for medical imaging teams from across the province, the country and the world.
Following installation, further research to validate use and drive innovations can be done effectively and efficiently within the clinical setting and will be completed by hospital-based researchers through Lawson Health Research Institute, the research institute of LHSC and St. Joseph's.