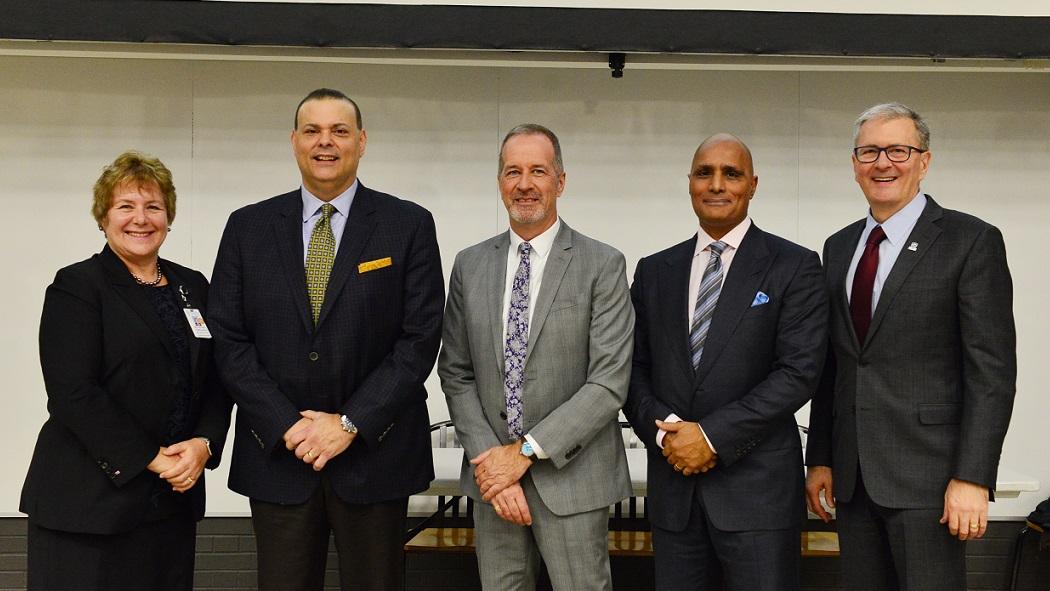 On December 10 London Health Sciences Centre (LHSC), St. Joseph's Health Care London, and Western University announced the formation of a partnership with Siemens Healthineers in magnetic resonance imaging (MRI), interventional angiography, cardiology and cardiac surgery that will create a centre of excellence in advanced diagnostic imaging and therapeutics in southwestern Ontario.
Building on established excellence in medical imaging, this new partnership includes the creation of an education, training and scientific research support fund in the area of advanced diagnostic imaging and therapeutics. Siemens Healthineers will provide in excess of $1 million in support funding for research, advanced clinical applications, teaching and outcomes analysis.
"This partnership represents another important building block in the incredible foundation of imaging excellence that we have in London," says Dr. Narinder Paul, Chair/Chief of the Department of Medical Imaging at LHSC, St. Joseph's, and Schulich Medicine & Dentistry. "Not only will we become leaders in state-of-the-art imaging and intervention through the centre of excellence, but thanks to the research contribution from Siemens Healthineers, we will also have dedicated funds for critical research in cardiovascular and neurological diseases that will translate to improved services and outcomes for patients in London and the region."
The research fund will support collaborations between research teams in diagnostic and interventional radiology, cardiology, and cardiac surgery, with imaging scientists at Lawson Health Research Institute, the research institute of LHSC and St. Joseph's, and Schulich Medicine & Dentistry's Robarts Research Institute, as well as research teams from across Western. These teams will partner with scientists from Siemens Healthineers to focus on improving both the patient experience and the outcomes in important cardiovascular and neurological diseases. The research funds will be leveraged against provincial and federal research grants to increase the funds available to the research teams.
The centre of excellence will provide hands-on training in MRI, diagnostic, and interventional catheter procedures through development of advanced simulation and phantom models. Medical learners and radiologists, cardiologists, cardiac surgeons, neurologists, neurosurgeons, and technologists in London and from across Canada will be able to access this centre to improve their diagnostic and therapeutic skills, which will in-turn improve patient access to skilled clinicians.
As well, LHSC and St. Joseph's are acquiring six clinical MRIs and six angiogram suites to be used for patient care, which will include the introduction of the first 3T MRI in the region. University Hospital will acquire a 3T/1.5T pair of MRIs, and two biplane angiogram suites. Victoria Hospital will acquire a 3T/1.5T pair of MRIs, a biplane and two single plane angiogram suites. St. Joseph's will acquire a 3T/1.5T pair of MRIs, and a single plane angiogram suite.
"Investments in capital equipment, such as these new MRI machines and angiogram suites, are incredibly important as they will immediately translate into safer, higher quality care for the patients we serve – in this case it's by offering the highest resolution images available, in less time, and with improved comfort for patients," says Dr. Paul Woods, President and CEO, London Health Sciences Centre.
MRI is used to provide critical diagnostic information about the physical structure and the biological processes of the body. MRI scanners differ from other imaging technologies as they use strong magnetic fields, magnetic field gradients, and radio waves, instead of X-rays, to generate images of the organs in the body. MRI is widely used in hospitals to facilitate medical diagnosis and/or the staging of disease without exposing patients to radiation.