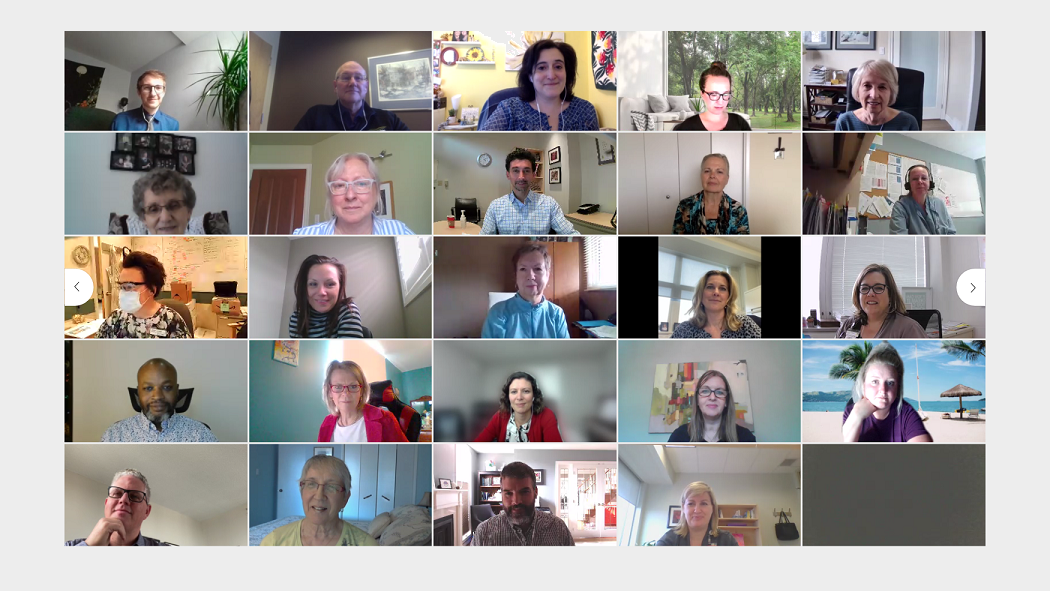 Patient/Family Partners were joined by physicians and staff during a virtual celebration on April 27 in their honour for their continued involvement with LHSC during the COVID-19 pandemic.
April 29, 2021
We are the Patient Experience: Physicians, Staff and Patient/Family Partners

This year sees us celebrating the second Patient Experience Week (PX Week) during the COVID-19 pandemic. During the past 14 months London Health Sciences Centre's (LHSC) staff, physicians and patient/family partners have continued to provide compassionate care while experiencing uncertainty, anxiety and fear. Their dedication, teamwork, compassion and resiliency have ensured patients continue to get the care they need, when and where they need it. This year's PX Week honours the staff, physicians and patient partners whose actions make them the patient experience.
The fantastic efforts and work of staff and physicians have been highlighted throughout the pandemic and can be found in stories on the LHSC news page.
Another group that has been engaged throughout the pandemic to provide the patient lens are the Patient/Family Partners, individuals with lived experience at LHSC. They provide valuable insight on policies, space, language and accessibility from the patient point-of-view to staff and physicians in order to improve the patient experience and help LHSC ensure patients are at the centre of everything we do. They have been busy working alongside staff and physicians during the COVID-19 pandemic. LHSC's Patient Engagement team has helped facilitate the various councils, groups and projects that have been underway.
Patient Family Advisory Councils (PFACs) – the Renal PFAC, London Regional Cancer Program (LRCP) PFAC, Patient and Family Centred Care Committees for University Hospital's ICU and Victoria Hospital's CCTC, the Children's Family Advisory Council and Child & Youth Advisory Council, have continued to meet virtually throughout the past year. These councils are composed of at least 50 per cent patient/family partners and program leadership. It is a great opportunity for these programs to continuously engage partners.
Policy Review Working Group – Established in January 2021 as a sub-group of the Patient Experience Advisory Council (PEAC), this group has three members from PEAC and an additional six patient partners from other Patient Family Advisory Councils (PFACs). This group provides a patient partner lens to LHSC policies which affect patients directly. The group has already reviewed four policies, including the Patient Rights and Responsibilities, and has been meeting weekly. The group identified a number of ways partners can be engaged during policy reviews and socialization from development all the way to rollout and education of revised policies. They have been engaged by members of the Policy team and will be engaging in further discussions on ways to increase their participation in policy work to support further embedding of the patient partner lens in the policy development process.
Communications Working Group (formerly the Rapid Feedback Team) – Established in December 2020 to respond to the need for a rapid response on patient partner feedback of draft materials and communications, the group has been renamed the Communications Working Group. The majority of the team's work has been on reviewing written communications for various services and teams at LHSC. The mandate of this group is to review materials with a patient partner lens to ensure knowledge translation is clear and concise for the diverse group of patients LHSC serves. The group is primarily virtually based and has reviewed six brochures and pamphlets directed towards patients.
LRCP Interviews – The LRCP has been innovative in using patient and family partners to participate in a number of their hiring interviews for positions including educators, specialists and managers. In the past four months, three partners have been engaged in interviews where the leads seek their input as to which candidate they feel would be best suited for the position from a patient partner lens. This is a unique opportunity for partners to participate in a meaningful and valuable way towards the hiring of staff.
Virtual Care Project - Initially engaging 10 patient partners in February 2021, this project supported the initial virtual care planning and strategy development. Eight partners further participated in focus groups and in one-on-one interviews. They provided feedback on virtual care appointments, identified current opportunities for improvement in areas such as scheduling, health equity and accessibility considerations. Partners also identified the value and impact of virtual care on the patient experience, including reduced monetary costs to patients (parking, gas, food on-site), distance travelled, time waiting in hospital, and demands on caregivers, as well as enhanced caregiver and family member participation. Many participants expressed interest in continued involvement in the project through roles and activities that are in development such as co-design activities, working groups, and project governance committees.