November 9, 2012
When Ruth Canda began coughing in December of 2011, she thought she was coming down with a cold. When it lingered, she went to her local walk-in clinic where she was treated for a chest infection and tried to ignore the annoying symptoms which just wouldn't stop.

But in April of this year when Canda was visiting family in London, things took a turn for the worse. Finding it increasingly difficult to breathe, Canda's family took her to the Emergency Department at University Hospital to be assessed. Within hours, she found herself admitted to the Intensive Care Unit, before being transferred to the Critical Care Trauma Centre (CCTC) at Victoria Hospital where she was placed on a bi-pap machine to help her breathe and testing began to determine the cause of her illness.

 A day later, Canda received the devastating news - a lung biopsy revealed the presence of advanced and aggressive cancer in both of her lungs.  Canda and her family turned to their faith for support, and trusted that the CCTC doctors and staff would do all they could to help her.
"Everyone in CCTC was so wonderful. All of the nurses were very caring, and they made sure my husband was comfortable as he spent every day at my bedside," says Canda. "Family is extremely important to us, and we believe that having family around provides hope. To have my husband with me meant everything."

Canda was placed in a medically induced coma to help her body rest, as ventilators did her breathing for her. Her husband, Roberto, was warned that when she came out of the coma, there was a chance that she would suffer long term effects to her organs and brain as a result of the low oxygen saturation levels she was experiencing. Her family prepared for that possibility, but held out hope that the strong woman they knew would come through. Her six year old son needed her to.
  
Prayers were answered when Canda awoke from her coma, and began to show signs of improvement immediately. After spending some time in CCTC building up her strength, she was transferred to the medicine floor, before moving to the oncology ward for treatment and monitoring. Canda and her family were once again comforted by the professional team surrounding them, ready to help in any way they could. "We can't remember everyone's name, but each person, from our porters to the nurses, social workers, doctors, even the cleaners who came in each day were always so nice and kind. We always felt that they were doing their very best to help us".

Months later, Canda continues to surprise doctors with her recovery. She has gained enough lung strength that she no longer requires oxygen support, and is back to doing many of the activities she enjoyed prior to her diagnosis. "I walked five kilometers the other day, and didn't feel tired or winded afterward. It's so nice to have my life back, and I know that I have the committed staff of London Health Sciences Centre to thank for much of my recovery."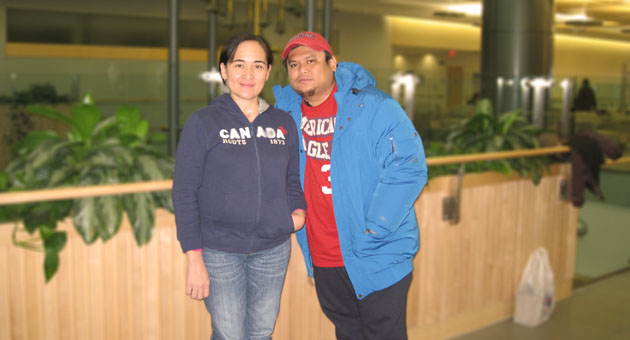 Ruth Canda with her loving husband, Roberto.