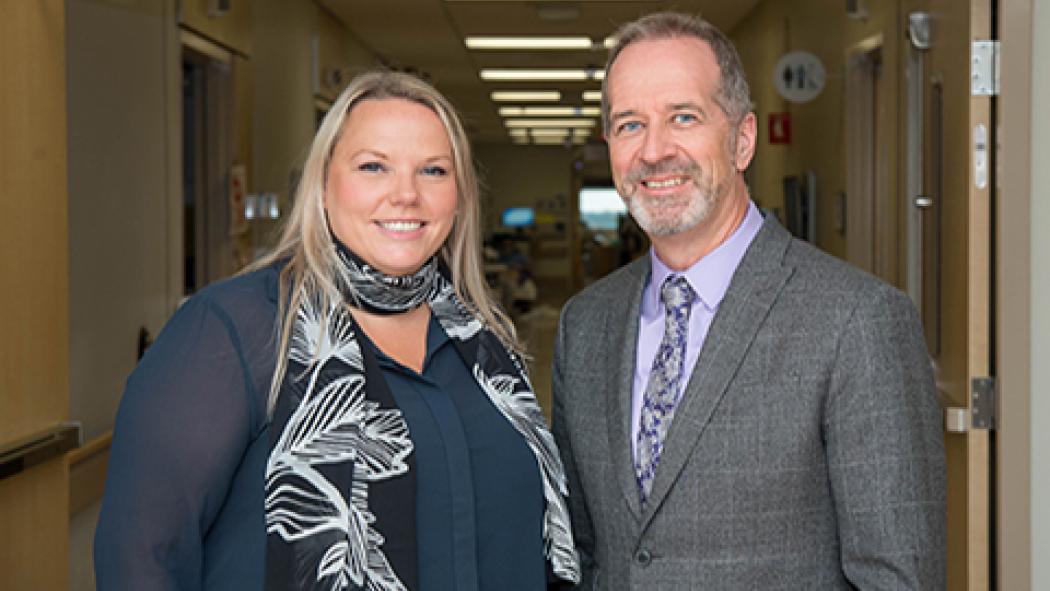 November 5, 2018
Dr. Paul Woods, LHSC President and CEO (right) is joined by Anita Sutton, Co-chair of Strategic Planning Steering Committee, who helped to provide input representing patient and family advisors for LHSC's 2018-2020 Strategic Plan.
Quality care is something we all care about, whether we are patients, family, staff or physicians.
To ensure that hospitals provide the best possible care, they are routinely evaluated by Accreditation Canada, a voluntary non-profit organization that defines the standards of care that all hospitals work hard to achieve.
This week, a team of eight Accreditation Canada surveyors are visiting and speaking not only to those who work and provide care, but also to patients and families at University and Victoria Hospitals, as well as some of our other locations such as the Family Medical Centres.
Patient and family opinions matter
Patients and families may be asked to participate, and it is the right of the patient and family member to decide whether they wish to participate or not.
Patient and family participants will be asked about their experience with our hospital services and are asked to speak openly.
All patient and family comments are confidential and will be used to help improve the quality of care and services provided at our hospital.
Sample questions patients and families may be asked
Have you been satisfied with the care or services you have been receiving?
What information have you been given about your care or the services here?
Have you been involved in making changes or decisions about your care?
If you have any questions about your care or services, do staff and physicians answer these questions adequately?
Have you been told how you or your family can make your concerns known?
Do you have any suggestions for improving your care or services?