When Sue Adair was diagnosed with breast cancer she drew much strength from a 'sisterhood' of women. She hopes to do the same for others as a speaker at Breast Reconstruction Awareness Day on Oct. 19 at St. Joseph's Hospital
October 11, 2016
As a teacher and behavioural specialist, Sue Adair travels from school to school in Huron and Perth counties teaching children strategies to cope with anxiety and how to calm themselves. But in January 2015, when she was diagnosed with breast cancer, Sue could not calm herself.  
The Stratford mom of three couldn't sleep. She couldn't stop her mind racing to a place of doom. It took friends who were cancer survivors to get her out of bed in the morning and encourage her to arm herself for a fight rather than self-pity. 
"When I was diagnosed I didn't know there was hope, that I would live.  Now, there is a lot of hope that I will live another 30 years."
Those friends, and many others Sue would meet during her cancer journey, were her strength, her "reinforcements." She is now stepping into that role for others as a speaker at Breast Reconstruction Awareness (BRA) Day on Oct. 19 at St. Joseph's Hospital. 
"When I went to BRA Day last year I was awaiting a double mastectomy. I didn't want to be one of 'those' women I saw all around me. But what I learned there, and what I saw in the show and tell lounge where women so graciously show their results, was so helpful. I went into my surgery with much greater understanding, knowing what I wanted and what I didn't want. I also saw that sharing is healing. There's a sisterhood in breast cancer. If my story helps someone make the connections they need to get through it, then that's important."
Presented jointly by St. Joseph's Health Care London and London Health Sciences Centre, BRA Day is a national campaign to promote education, awareness and access for women wanting to know if breast reconstruction after a mastectomy is right for them. Whether a woman is scheduled for a mastectomy, had the surgery recently or many years ago, all are invited to learn about the options  directly from leading plastic surgeons, hear from women who have undergone the surgery, view real results first hand in the women's only 'show and tell lounge', and discover the St. Joseph's Circle of Sharing support group.
In addition to speaking, Sue will be among volunteers in the show and tell lounge this year. She's thrilled with her reconstruction results. But breast cancer for this 54-year old was a 1 ½-year ordeal that, at times, she felt would never end. 
A decade earlier, Sue had a breast cancer scare that turned out to be benign. For 10 years following, she had yearly mammograms before being told she could switch to the routine, every two-year screening for those age 50 and over at low risk. Just shy of that first two-year mark, however, Sue found a lump. Having been through one scare she wasn't concerned, until a doctor, she recalls clearly, sat down with her after a whirlwind mammogram, ultrasound and biopsy and said "we don't expect the results to be good."
In an unusual twist, Sue was diagnosed with stage 1 cancer – it was caught early – yet it was aggressive. The risk was high of the cancer showing up in her second breast.  "I lost both breasts with stage one cancer." 
After five months of chemotherapy, Sue chose to have the double mastectomy and reconstruction all at once, in a single operation. 
"I never had to see myself without breasts. That was huge for me," says Sue, who had her surgery at St. Joseph's Hospital. "But everyone is different. Every case is unique. The important thing is that women know their options, that they have trust and confidence in their care, and that they have hope. That is what BRA Day is all about and why I'm telling my story."
If you go: Breast Reconstruction Awareness Day, Oct. 19
Most women who undergo mastectomy are not told of their options and do not have reconstruction despite the emotional, physical and practical benefits the surgery is known to have. On Oct. 19 at St. Joseph's Hospital, anyone who has been touched by breast cancer or wants information about breast reconstruction after a mastectomy is invited to Breast Reconstruction Awareness (BRA) Day, an informative evening that allows women to:
learn about reconstruction options directly from plastic surgeons 
hear from women who have undergone the surgery
view real results first hand in the women's only 'show and tell lounge'
discover the "Circle of Sharing", a unique support group that helps women who have undergone breast reconstruction reclaim wholeness
Where: St. Joseph's Hospital, Shuttleworth Auditorium (Zone D, Level 0) from 7 to 9:30 pm. Closest entrance is Cheapside Entrance 4.
Registration: BRA Day is free but registration is required. Online registration is available at www.sjhc.london.on.ca/bra-day-2016  
Host: BRA Day is a national educational and awareness campaign hosted by the Canadian Breast Cancer Foundation. 
What is breast reconstruction?
Breast reconstruction is surgery to recreate all or part of a breast that has been removed by mastectomy. A breast can be reconstructed with an implant, the woman's own body tissue, or a combination of an implant and body tissue. Most women who are having or have had a mastectomy are candidates for breast reconstruction. Women who have had a lumpectomy may also have options for reconstructing partial breast defects.
Find more information on what's involved in breast reconstruction, what the new breast will look and feel like, when can surgery be performed, and much more.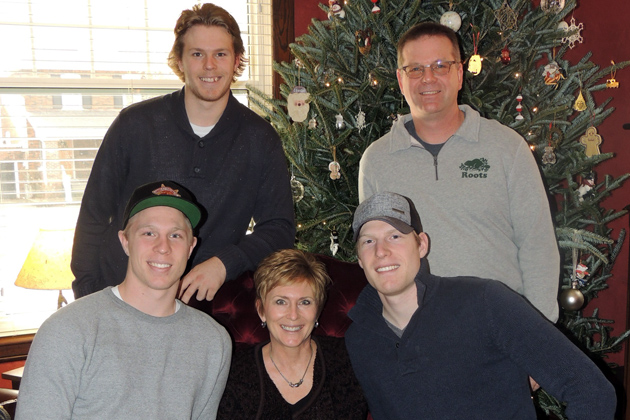 Sue Adair of Stratford with her family.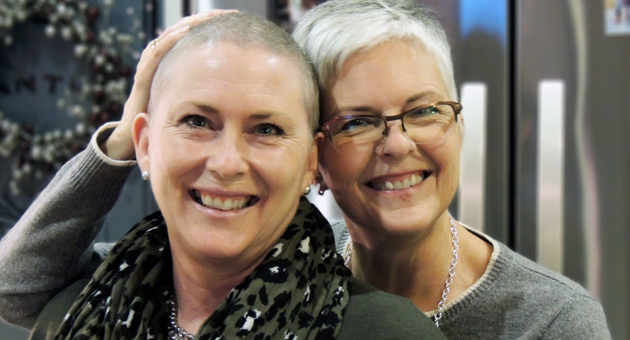 Among the many "reinforcements" who supported Sue Adair (left) during her breast cancer journey was her sister Jane-Ann Parker.