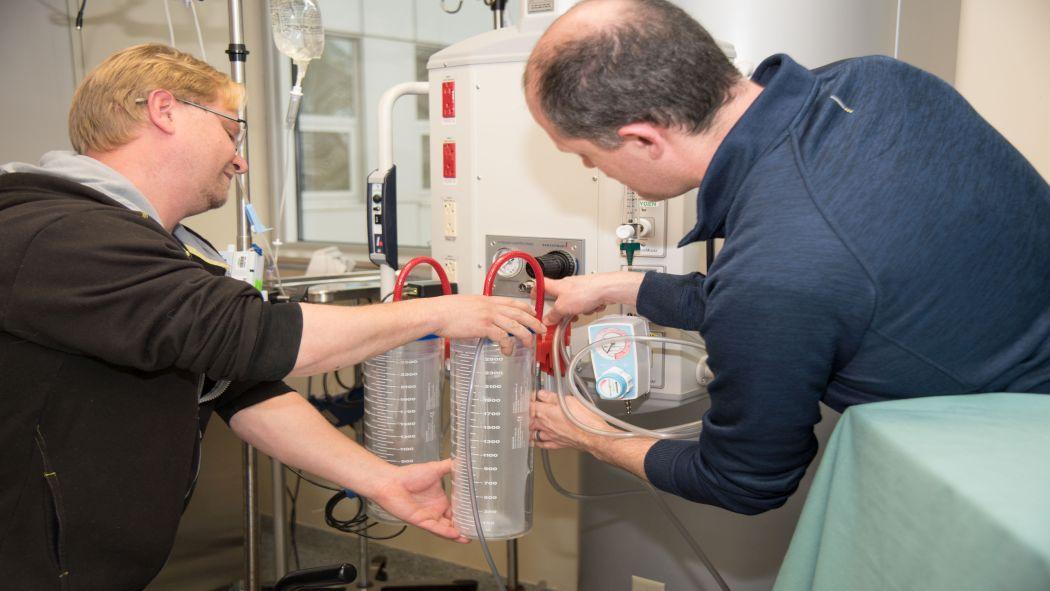 August 14, 2019
From April to July a series of skills fair sessions were held for all personal support workers (PSWs) at London Health Sciences Centre (LHSC). The sessions which took place in CSTAR, provided PSWs with the opportunity to practice core skills that are important at the bedside, as well as learn new skills that will help them to meet the full scope of their profession's practice going forward. More than 300 PSWs completed this year's skills fair.
"When planning for this year's skills fair we knew we wanted to leverage CSTAR to provide a much richer learning experience through realistic hands-on scenarios," says Jonathan Lao, Training and Development Specialist, Nursing Professional Practice at LHSC. "PSWs are an integral member of various care teams across the hospital, so it was incredibly valuable for them to have the opportunity to practice core skills in a safe but incredibly realistic environment where they could explore their curiosity and question where they can improve while still being held to a high level of accountability as a member of a larger care team."
During the day, attendees cycled through four high fidelity simulation stations that included:
Performing electronic clinical documentation of activities of daily living and fluid balance, as PSWs will soon be moving from their current paper-based process to an electronic system
Annual refresher on Code Blue process and procedure
Certification to perform an assessment of vital signs on adult patients, which will become a delegated task for PSWs moving forward and will include actions like taking temperature, pulse, respiratory rate, blood pressure, and oxygen saturation readings
A core skill-based escape room that tested PSWs on a range of role-based tasks and accountabilities such as precautions, behaviour safety alert, Pinel restraints, observational care, ostomy care, safe patient handling, de-escalation strategies, oral nutrition, and hydration
Feedback from attendees has been tremendously positive. Compared to previous classroom-based sessions, the interactive hands-on aspect was really appreciated as it gave them the chance to learn from their own personal experiences in realistic high-pressure scenarios, while also working on important team functioning skills. It also provided the opportunity for attendees to draw practical knowledge from the clinical educator pool as they applied critical thinking and problem solving skills to the various interactive scenarios.
Another benefit of holding simulation-based skills fair sessions is that it helps to develop a consistency of practice across the PSW role regardless of the area of the hospital they are located in. The uniformity of training creates a better standardization of practice, which in turn improves patient safety and quality of care for all patients PSWs help to support.
Lao adds, "Allowing individuals to exercise their curiosity in a supported learning space is one important way our clinical educator team is living our corporate values. The greatest benefit of simply doing so is that it genuinely translates to better care at the bedside and enhances the strength of the overall care team. We hope to continue to offer simulation-based skills training for our PSW team in future years."