January 26, 2015
The pharmacy department at LHSC has been diligently working to help ensure optimal and timely treatment for patients with a serious infection known as Clostridium difficile (CDI). The new initiative partners pharmacists with the Infection Prevention and Control (IPAC) and Microbiology teams to provide a focus on the medication-related issues in this patient population. This initiative is one of the Leading Practices at LHSC recognized by Accreditation Canada and by the Canadian Society of Hospital Pharmacists (CSHP) as a Success Story in 2014.
"I would like to congratulate the team. This initiative speaks to collaboration and teamwork," says Sandy Jansen, Director of Pharmacy.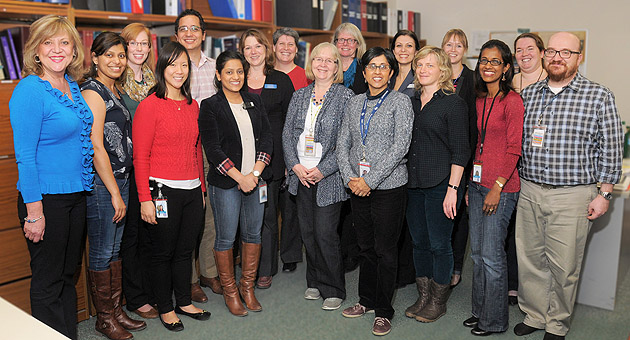 LHSC Pharmacy team at University Hospital.
Pharmacists identified an opportunity to improve the medication therapy in these patients. Once notified by Microbiology, pharmacists assess the patients' severity of illness using an evidence-based tool, and work with the care teams to determine optimal drug therapy and address the medication related risk factors. 
This is a novel approach. By receiving lab results about CDI at the same time as they are reported to the medical team, the pharmacists can ensure the best treatment is provided without delay. 
Antimicrobial Stewardship pharmacist, Zagorka Popovski, says, "All of the pharmacists are committed to working with our IPAC, lab and clinical colleagues to ensure patients receive the best care 24/7.  By capitalizing on all professionals unique scopes of practice, together we're making a real difference."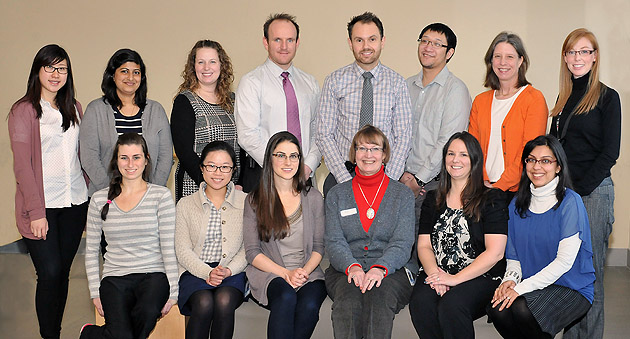 LHSC Pharmacy team at Victoria Hospital.
Since implementation, the incidence of severe complications of hospital acquired CDI appears to be reduced. In addition, this process has demonstrated the need to continually address medication-related issues in the treatment of CDI as well as the importance of a partnership between infection prevention and control professionals with pharmacists - a sort of synergy due to their unique scopes of practice.
 "This project has improved the quality of care for our patients. It is a multidisciplinary approach that encourages appropriate antimicrobial use," says Cathy Vandersluis, Director of Infection Safety. "Most physicians are not antibiotic experts, but when the pharmacists make a recommendation for a different antibiotic they are receptive to making the change."
Accreditation Canada's website states Leading Practices "foster inter-organizational learning and harvesting of new ideas. These practices are leading in a service delivery area, in a particular health care setting, or for a specific health care challenge." Leading Practices are awarded by Accreditation Canada and an external committee based on the following criteria: innovative and creative; client- or family-centred; evaluated; able to demonstrate intended results; sustainable; and adaptable by other organizations.
CSHP recognized only two winners in Ontario, and just 10 across the country. The CSHP award recognizes pharmacists who actively apply evidence-based methods to the improvement of medication therapy.
"This project demonstrates that pharmacists play a key role in clinical outcomes when they are actively involved in contributing evidence-based information to patient care," says Rita Dhami, Antimicrobial Stewardship pharmacist.