May is Physiotherapy Month
May 26, 2017

The scope of LHSC's physiotherapy service is broad and encompasses a diverse number of patient conditions and populations. There is physiotherapy coverage at LHSC 365 days a year with staff providing quality, patient-centred care aimed at ensuring our patients leave the hospital safely, and with a plan for improving their functional recovery. 
One individual who knows exactly how vital a role physiotherapy plays in aiding functional recovery and getting them safely home and back to working is Mike Pearson.
After experiencing an aortic dissection, Mike was transported to the Emergency Department at University Hospital for care where he would be placed into medically induced coma and transferred to the Critical Care Trauma Centre (CCTC) at Victoria Hospital. He spent the next six weeks under the watchful eye of the CCTC team before demonstrating the signs that he was physically well enough to be brought out of his coma. While a lot of the initial waking time remains a bit foggy, Mike can clearly recall the near immediacy of a visit from a staff physiotherapist.
"As soon as I could get moving, the physiotherapy team was there," says Mike. "We started by working at just standing up beside my bed, and we progressed from there to taking a couple of steps, to taking steps behind a wheelchair and so on."
Along the way, physiotherapists were there to provide important education, manage his symptoms with activity and to encourage him and motivate him to continue, which for Mike helped him to realize the importance of just keeping going.
He recalls, "I knew that if I didn't move, I wouldn't move. Sometimes it wasn't easy, and I really didn't feel like doing it, but as I began to get a little more mobile, things started to gel for me."
It was at this time that Mike was transferred to the vascular inpatient unit. It was here that he credits physiotherapy, as well as his health-care team, with readying him to go home. Mike says, "My physiotherapist on that unit absolutely kept me going and got me mobile enough to go home, where I would continue physiotherapy through the CCAC."
With continuing lung complications post discharge from hospital, Mike was referred to LHSC's Thoracic Surgery Ambulatory Care Clinic where was referred to physiotherapy on an outpatient basis. He attended the Thoracic Surgery Outpatient Physiotherapy exercise program three times per week. Under the direction of his physiotherapist, he was able to improve his physical strength and endurance and this ultimately ended up saving him from needing a secondary operation and got him to a place where he was ready to reintegrate back into work as a Personal Support Worker at LHSC.
"At each step along the way, they pushed me in the right direction," recalls Mike. "Everyone was very positive and reassuring throughout the whole process. Now that I've started to return to work, I'm getting most of my walking in there, but I still do the leg stretches and light exercises at home as part of my daily routine. I believe every effort you make counts and I love telling the patients that I assist just how much physiotherapy can help. I'm proof that physiotherapy can be a big part of getting your life back. My heartfelt thanks to everyone involved in my care. "
Physiotherapy staff work in partnership with our patients to optimize their physical function whether that means working with them pre- or post-surgery, or when they are recovering from illness, injury or chronic disease. Physiotherapy staff play an integral role in preventing functional decline while patients are in hospital and facilitating safe discharge.
LHSC's Physiotherapy Service has over 115 staff members (full-time, part-time and casual) who work throughout the hospital. During the month of May, we have the opportunity to share the important work that physiotherapists do, and thank them for their efforts.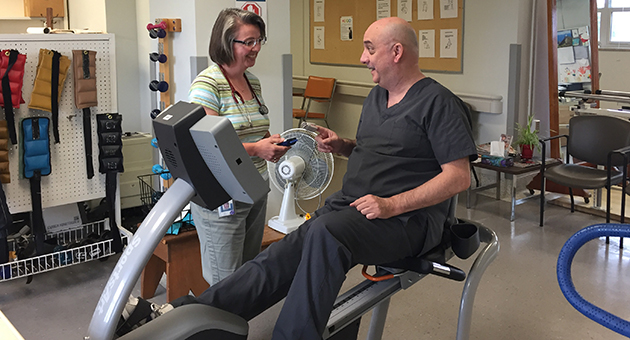 LHSC physiotherapist Lynn Adams works with patient Mike Pearson