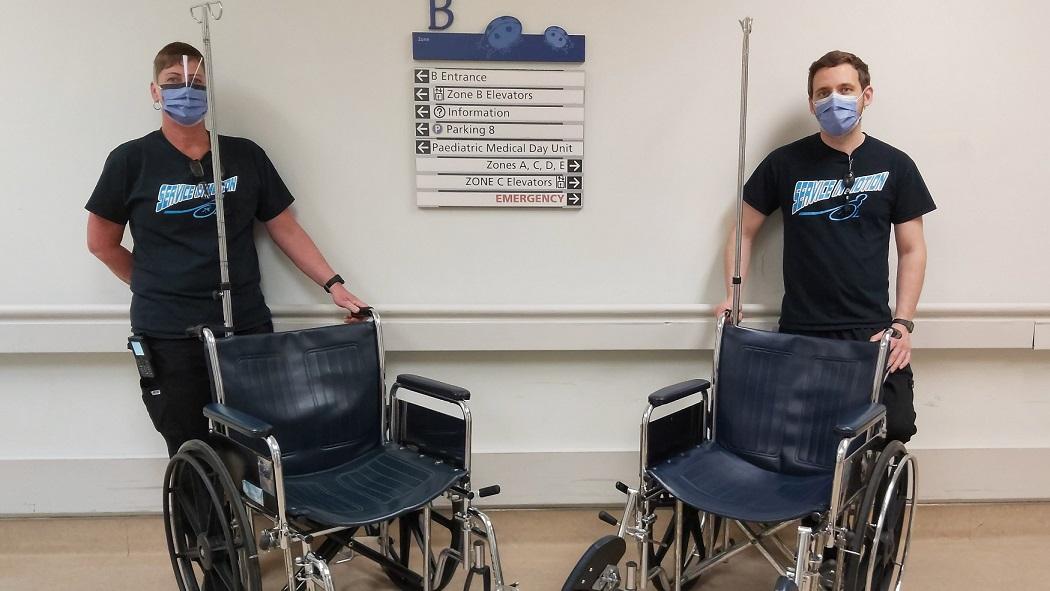 June 23, 2020
Porters Kim Harrison and Gary Minder are providing compassionate service during COVID-19.
Porters at London Health Sciences Centre (LHSC) pride themselves on ensuring high-level service and patient-centred care. During COVID-19 the portering team has continued to meet this goal despite the rapidly changing environment. Their agility and dedication are enabling them to continue to deliver compassionate service to patients, staff and physicians.

The number of calls to portering did not decrease with LHSC's service reductions in March. "We've received a lot of calls we were not really expecting. It's given us an appreciation of the role patients' families play in helping them get around," explains Carrie Sophonow, Manager, Portering and Logistics. The portering dispatch department answers the calls and assigns the requests. "Our portering dispatch team are communicating out to the porters and fielding a lot of questions ensuring the needs of the patients and units are being met," Carrie says.

Dispatch has been responsible for arranging calls for porters to pick up patients, belongings, personal protective equipment, lab specimens and more. Over the month of May, they logged over 2100 calls from the hospital entrance screening stations alone.
"We came together as a team to effectively and quickly deal with a higher call volume," says Katherine Gosnell, portering dispatch. "We consistently have over five calls in the queue with four people managing the phones at all times."
Providing dispatch and porters with timely up-to-date information on COVID-19 changes allows them to provide patients with the appropriate care. The centralized staffing model is enabling quick and efficient dissemination of updates to all members of their team.
"It's important for porters to stay up-to-date on changes because they affect so much of what we do and who we come in contact with on a daily basis," explains Gary Minder, a porter at LHSC for eight years.
Carrie applauds new coordinators, Jaclyn Payne and Franklin Amaral for empowering their team of porters by providing opportunities to improve the patient experience. This has enabled porters to really focus on the individual patient and deliver compassionate care during this unprecedented time.
A 17-year veteran in portering at LHSC, Kim Harrison notes how uncertainty at the beginning of the pandemic quickly settled after the first few weeks with a new sense of normal, especially around the impact of visitor restrictions. "I really felt for the patients and we had a couple of sad encounters with family members," Kim explains. Kim notes that the team's patient-centred focus and empathy helped in those situations.
Gary also notes how patients and their families are scared and nervous coming into the hospital. The interaction with the porter is a crucial part of the patient experience. "Many patients are rightfully nervous; they're coming in to what they see as a hot zone for the virus. It is really rewarding being that friendly, calm person for them. Porters are the friendly face," Gary explains.
Brent Nason, a porter of 16 years, notes how difficult the situation has been for patients and how his fellow porters have stepped up to show compassion for patients. "This situation is really making the job much more important. Our team is going above and beyond," he says. "We are reassuring family members their loved one is getting excellent care and is in safe hands."
With their centralized model of staffing, porters were well-poised to deliver care and support where needed without redeploying staff from one specific area to another. They also did not need additional training because they're prepared to work in all areas of the hospital. Being able to quickly respond to the pandemic has enabled porters to focus on providing compassionate service to patients and staff.
For Gary, "team work has been such an important element during this time. As a hospital, we are all changing and pivoting along together. It feels like we are shifting and working as one big unit."