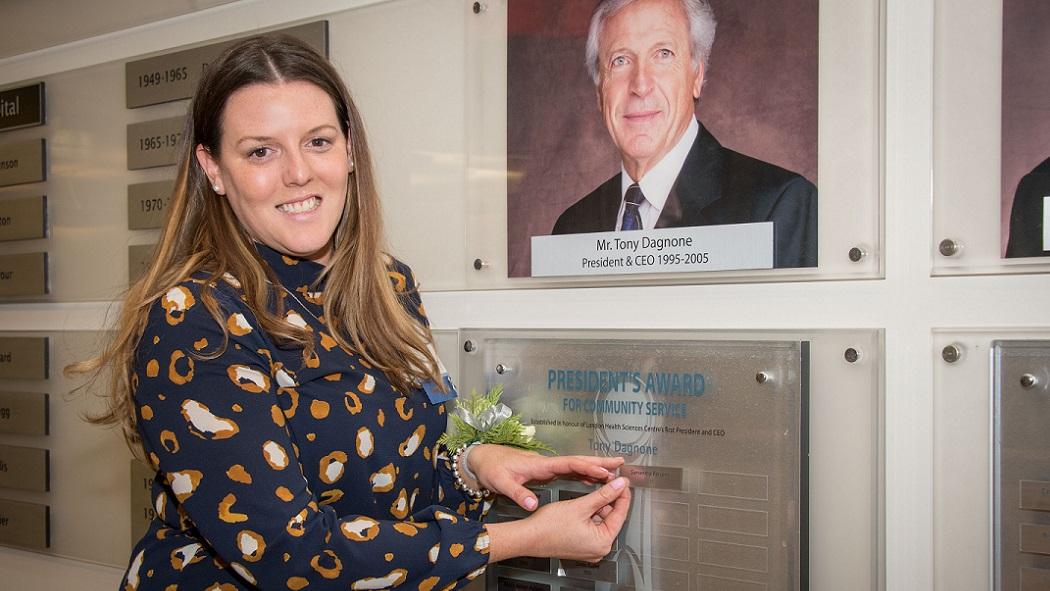 Samantha Parsons, 2019 Recipient
Samantha Parsons is this year's recipient of the President's Award for Community Service. Samantha is a Clinical Research Manager in Nephrology at University Hospital, and has worked at LHSC for eight years. In this role, Samantha manages a team of research coordinators running clinical trials for eight different physicians in nephrology.

When she found out she had been named the 2019 recipient of the President's Award for Community Service, Samantha was surprised and excited. "It's a big deal in the organization to be nominated for a President's Award, so I was very happy to find out I won," says Samantha.

Samantha has shown a great dedication to community service over the years. She has volunteered for organizations such as Big Brothers Big Sisters, Cystic Fibrosis Canada, Women Together, and the Arthritis Society of Canada. However, it is her work with the Ronald McDonald House that has been highlighted due to her extensive involvement since 2012 in the Red Shoe Society, a group that raises funds for Ronald McDonald House. She has chaired the Scarlet Ball, served as Secretary, Vice President, President, and now Past President, while helping the group raise $648,000 locally since inception. Samantha also volunteers directly in Ronald McDonald House by making meals or decorating for the holidays.

"I think that if we are able to give back then we should do that. I get more out of volunteering than I give. I am more fulfilled by giving back to others, and I've gained new skills and met most of my close friends through volunteering," explains Samantha.

The nomination letters in support of Samantha note her friendly, positive, and supportive attitude. She also exudes a confidence and an enthusiasm that encourages others to do their best. It was noted that when someone on her team has a difficult task and they speak to her about the challenges, they end up feeling confident that the challenges can be overcome. She is able to bring out the best in those she works with through her passion and enthusiasm of working with, and for, others.