January 11, 2015

For the past decade, Joanne Clark has been helping to ensure any child who wants to play hockey—regardless of ability—has had that chance through her work with the Red Circle Hockey Club.
Her 10-year commitment to the club is why Clark is the 2015 recipient of the President's Award for Community Service. An administrative assistant in the Renal Program at LHSC's Kidney Care Centre, Clark has worked at LHSC for 28 years.
With more than 1,200 children participating in the program each year, Red Circle offers lower fees and ensures all kids play with equal opportunity. 
"It's a great opportunity for kids of all ages to play hockey for fun. It's not all about the competitiveness, it's about having fun," says Clark. "Regardless of ability, each child gets an equal amount of ice time. I like that philosophy."
Clark's commitment to Red Circle began in 2005 when she agreed to take on the duties of Team Manager for her child's hockey team. Since then, as new needs arose within the club Clark has taken on increasingly demanding roles, growing from team manager and convenor, to serving on the Board of Directors, becoming the Director in charge of Time keepers, being elected as league VP and now serving as Secretary – all long after two of her three children have graduated out of the club.
These various roles have required an enormous time commitment from Clark, not limited to the winter months but one that includes spring and summer planning as well. 
"Joanne just quietly goes about and does this work," says nominator Janice McCallum, Director of Renal Services at LHSC, and the first-ever recipient of the then-called President's Award for Outstanding Volunteer Community Service in 2007. "She's put in so many hours, while remaining committed and passionate about the work. She has invested and created new things for this organization to make it better, and she does it even though her children are not as involved as they've grown up. She's a role model for others, and she's had an impact on many, many kids' lives."
Clark looks for innovative ways to make the club more efficient, including in her role of Director in Charge of Timekeepers. Prior to her taking on this role there was no set process for interviewing applicants, and so Joanne created an interview tool and established an interview process that is adaptable to be age-appropriate as timekeepers can be as young as 12 years old. She has also designed a training package for all of these new hires.
There have been many opportunities for personal growth in the variety of roles Clark has held with Red Circle. She says communication would be one of the biggest skills she's been able to develop, with a variety of public speaking requirements at meetings and crucial conversations with coaches, parents and kids. 
Clark says meeting and developing connections with new people is her favourite part of her work with Red Circle. 
"I love meeting new people. I'm always at the arena, so you get to meet a lot of the parents and get to grow up with the kids. It's really special seeing the return of players who have come back to help coach or volunteer – including my oldest son who coached my youngest son for a year!"
Parents and other Board members describe Clark as an inspiration to their children and themselves to volunteer more as she encourages others to make a contribution of their time and talents. 
The Red Circle Club has benefitted from Clark's leadership skills, dedication, and care. Her efforts have ensured that other children have the opportunity to participate in organized sport—something that would not be possible for many of these children without this organization.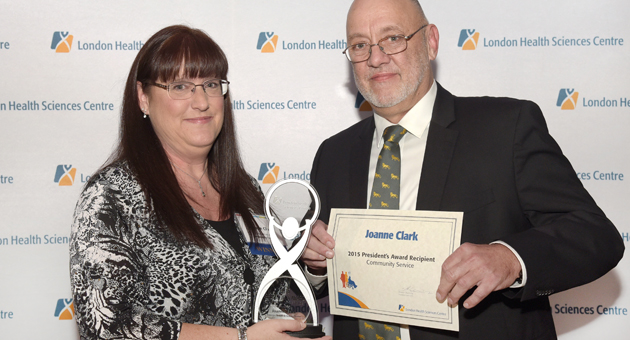 Joanne Clark, 2015 recipient of the President's Award for Community Service, receives her award from LHSC's President and CEO Murray Glendining at the ceremony on Dec. 11.