Congratulations to Linda Kuska for making a difference
January 4, 2017

Linda Kuska is this year's recipient of the President's Award for Community Service, for her dedication, commitment and leadership as a 17 year member, team captain and past-president of the Rowbust Dragon Boat team and for bringing the Dragon Boat Festival to London as a co-founder of the event. Since the festival's inception in 2010, over 50 community teams have participated each year including several teams from LHSC, each team containing over 20 members. 
Linda is recognized as a champion for breast cancer awareness, educating the public about breast cancer survivorship and the importance of cancer research. "I discovered that there was important work being done in the area of breast cancer treatment, research and support, and I wanted to find a way bring that awareness to the community while also promoting physical activity as part of a healthy lifestyle," says Linda. 
Linda has worked at LHSC for over 30 years, and is a registered nurse in the Orthopedic Clinic at Victoria Hospital. Despite her busy days in the clinic, it is not unusual for her to dedicate her evenings to the Rowbust cause, including practices three times each week, often being the first person at the lake preparing the boats for her team, and the last to leave once everything is put away and safely locked up. 
"My breast cancer diagnosis in 1999 was life changing for me," adds Linda. "It's easy to get wrapped up in work and life and sometimes you forget to have fun. I have a great time with our wonderful Rowbust team. It's rewarding to see team members bonding and having fun while also giving back to a community that has given us so much." 
One of her nominators writes: "Linda is an energizer bunny. She is always upbeat and positive and encourages everyone to be the best they can be at all times." Boundless energy is a theme throughout Linda's nomination letters, as is her passion for encouraging others to experience the health benefits and camaraderie that being part of the 70-member Rowbust team can provide. 
As to what keeps her motivated to put in the countless hours she does, Linda shares: "It just feels good to give back to others. I don't do what I do for accolades – I do it because I love it."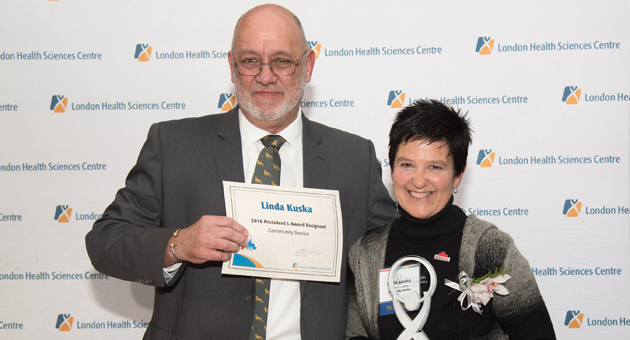 Linda Kuska with LHSC President and CEO, Murray Glendining.