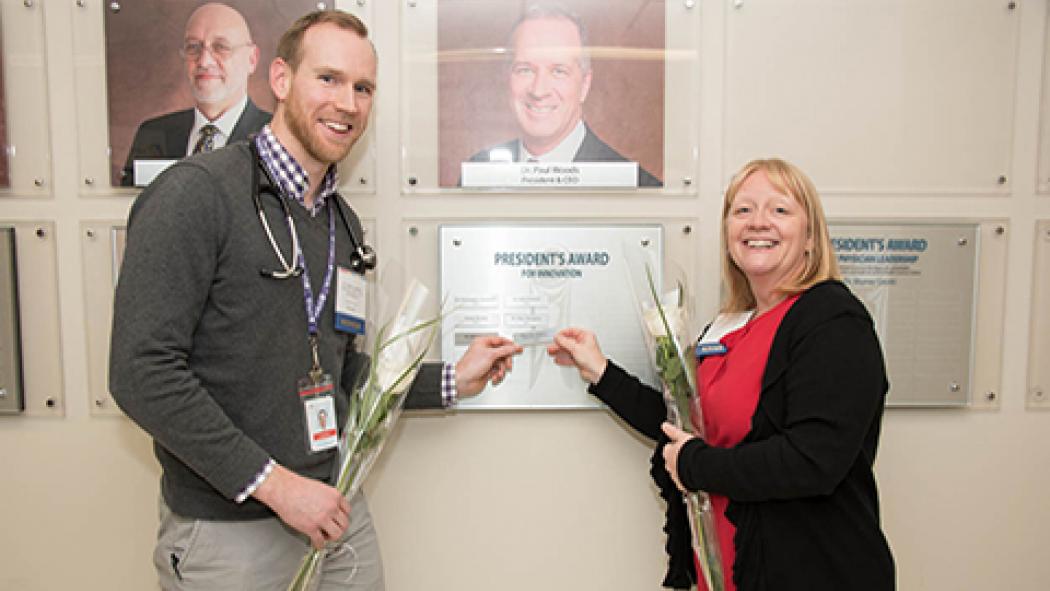 The Patient Oriented Discharge Summary (PODS) Phase 1 - UH Acute Medicine Team is this year's recipient for the President's Award for Innovation. The team includes Dr. Andrew Appleton, Claire Martin, Dr. Alan Gob, Dr. Erin Spicer, Andrea Cowan, Ann Turcotte, Anne Foster, Tara Caslick, Anne Leckie, Vicky Baroudi, Lisa Dawtrey, Tammy Steele, Tammy Fisher, Helen Sumpter, Carolyn Burke, Kristine Millman, Betty Mayville, Beccy Roden, Sherry Ostapiuk, Michelle Hennessy, Donna Simpson, Robin Francis, and Sue Vollbrecht.
The interdisciplinary team includes physicians, leaders, nurses, communication clerks, educators, health disciplines, information technology services, project support and two patient advisors working together to bring this innovation forward.
"One of my favourite parts of the project is that patient advisors were on the team from the beginning to ensure we were really considering the patient perspective and offering a positive impact to their discharge process," says Claire Martin, PODS project co-lead.
In 2017, the team launched PODS as a pilot project in the Medicine Unit at University Hospital after identifying that patients who have been discharged often lacked an understanding about the details of their care and treatment throughout their hospital stay. Many of these patients also struggled to manage their care from home following discharge, and risked readmission as a result.
"The team really saw that this was a gap for patients, and they were adamant that they wanted to do this work," says nominator Carol Young-Ritchie, Vice President of Medicine, Critical Care, and Family Medicine.
The PODS team created a tool to allow discharged patients to communicate with their entire multidisciplinary health-care team from home. This included partnering with community health organizations and the patient's family doctor to ensure they have access to the tool in order to facilitate a collaborative, fulsome approach to providing care following discharge, as well as improving communication between key stakeholders. The tool allows a patient to view their discharge details in one place, including follow up appointment information, contacts and resources, patient education materials, and notes from their care providers. The tool also allows patients to report changes to their routine and symptoms.
Nominators describe the PODS team as a dedicated, passionate group whose creativity has led to improved communication between care providers and patients, allowing patients to be more actively involved in their care. The team demonstrates the qualities of innovators by utilizing their areas of expertise in inventive ways to strive for service excellence and enhance patient care.
"This initiative means a lot to us because it benefits patients. We're thrilled to have been recognized with the President's Award," says Martin.
Following the success of the pilot project, PODS was also implemented in the Sub-Acute Medicine Unit at University Hospital and the Medicine Units at Victoria Hospital. There are plans to eventually implement PODS in all inpatient areas throughout LHSC.