January 14, 2016

Thirty-two patients and counting now have more time with loved ones thanks to an innovative new surgical approach pioneered by Dr. Roberto Hernandez-Alejandro, the 2015 recipient of the President's Award for Innovation.
Dr. Hernandez-Alejandro, Surgical Director of Liver Transplantation at LHSC and Associate Professor of Surgery & Oncology at Western University, has brought an innovative surgical technique known as ALPPS (Associated Liver Partition and Portal Vein Ligation for Staged Hepatectomy) to London for patients with metastatic colorectal cancer to the liver.
This patient population can only be successfully treated if their liver metastases can be safely removed surgically, but often the tumours are in multiple segments of the liver. A complete resection wouldn't leave enough liver behind, but the ALPPS technique allows for this resection to occur in two stages, giving an option for patients who would have otherwise only had palliative therapy as an option. ALPPS offers real hope of extending survival for a patient population that would otherwise live for less than one year.
"Seeing patients doing so well after this surgery is so exciting, especially when they are free from cancer," says Dr. Hernandez-Alejandro. "Meeting their families when they come in to the follow-up clinic, and giving them all a chance to spend more quality time together is incredibly motivating. While we aren't always able to cure them of their disease, we can give them the chance and hope for more time with their families with a good quality of life."
In the first ALPPS operation, cancerous tissue is removed from the smaller left portion of the liver, and blood flow is directed to that fragment which then quickly grows to a much larger life-sustaining size in 1-2 weeks. The patient then has a second operation and the remaining cancer-containing right side of the liver is removed.
Retired surgeon Dr. Bill Wall nominated Dr. Hernandez-Alejandro for this award and notes that today, innovation mainly comes in two forms. The first is a standard operation done with a different technique, such as laparoscopically. "Much less common is developing a new operation that's never been done before," he says. "It's riskier, and it really requires more innovation."
After hearing a European report of this approach, despite many in the medical community remaining skeptical, Dr. Hernandez-Alejandro developed the approach at LHSC. To-date, Dr. Hernandez-Alejandro has been able to implement this technique for 32 patients at LHSC with no mortality and morbidity, and he has published more than 10 peer-reviewed manuscripts related to ALPPS.
Dr. Hernandez-Alejandro is quick to note that the success of this procedure depends entirely upon the strength of his team. 
"The support from residents and fellows was a key element in getting this off the ground," he says. "The skill and support from the operating room staff and anesthetists continues to play a very important role, and I appreciate the trust they show in me." He also cites the support from the Department of Surgery, medical oncologists as well as hospital administration who have all been instrumental in the success of ALPPS at LHSC.
Dr. Hernandez-Alejandro is a pioneer in North America for this technique and has talked widely through North America on the surgical innovation. He has enrolled all of his cases in a pilot study in an International Registry that is gathering data on the global experience with ALPPS. As one of the five members of the international scientific committee analyzing data from the registry, Dr. Hernandez-Alejandro is helping to judge the effectiveness of the surgical approach. 
After joining LHSC seven years ago, Dr. Hernandez-Alejandro has rapidly gained a reputation for leadership and collaboration, both within LHSC and in the broader surgical community nationally and internationally.
In addition to his innovative work with ALPPS, under the direction of Dr. Hernandez-Alejandro LHSC has become one of the leading Canadian hospitals for organ transplantation from donors after cardiac death (DCD), and liver transplants from DCD donors now account for 15 per cent of LHSC's annual totals—more than any other Canadian centre. He is also spearheading machine perfusion of donated livers at LHSC in collaboration with two other Canadian centres in order to maximize the use of organs that might otherwise be discarded. 
Dr. Hernandez-Alejandro inspires colleagues, fellows, and residents through his own work ethic, resourcefulness and desire to help patients with life-threatening problems. He is truly pushing the envelope for patients facing a life-threatening illness.
"I am truly pleased with this award recognition," says Dr. Hernandez-Alejandro. "Not only is this work having an impact on patients here in London and across North America, but it is inspiring other colleagues, surgeons, and residents to be more innovative in their own approaches. That continues to motivate me."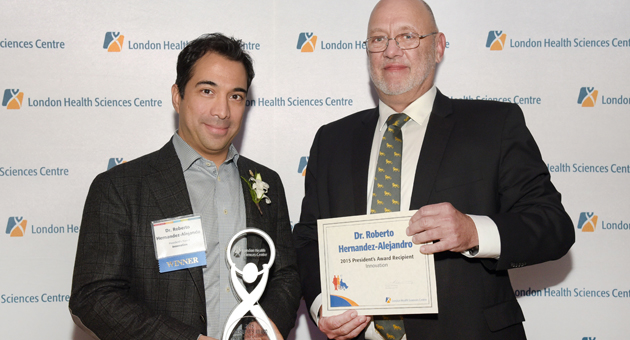 Dr. Roberto Hernandez-Alejandro is the 2015 recipient of the President's Award for Innovation. He received his award from LHSC President and CEO Murray Glendining (right) at a ceremony on Dec. 11.