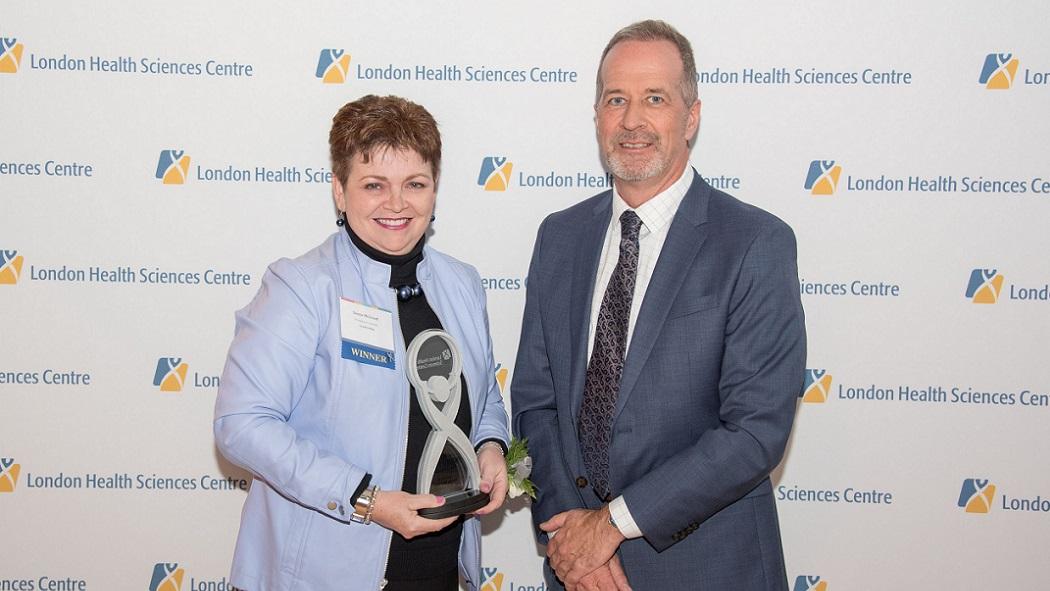 Sonja McLeod, 2019 Recipient
Sonja McLeod is this year's recipient of the President's Award for Leadership. Sonja is the Coordinator for General Surgery/Urology and the Skin, Wound and Ostomy (SWOT) team at Victoria Hospital and has worked at LHSC for over 30 years.

Sonja says, "I was shocked to even be nominated as there are so many deserving people, who have coached and mentored me over the years. It is a humbling honour. You come work hard every day, and everybody else does too. A leader is only as good as those who surround him or her. I have wonderful people, who have been around me every day and guided me through my career path here."

It has been described that Sonja created a unit that feels like home. Sonja is a highly regarded leader who is said to be supportive, approachable, honest, direct, and deeply caring when it comes to patient care and safety. Her team feels supported, and able to seek advice and work together to solve challenges that arise. Sonja works well under pressure, and is able to navigate difficult situations with expertise.

Sonja's competent and caring leadership has allowed her to build a network of partnerships within, and outside, the organization. One letter noted that she has built a network of partnerships in areas such as Admitting, Operating Room, Pharmacy, and more, which helps to streamline services across departments, leading to safer and more effective patient care. Through her tireless efforts to effectively communicate with her team and others she works with, while thinking outside the box, and her willingness to always be available for questions and use those moments for learning, Sonja has cultivated a team that exemplifies exceptional patient care.

"I remember as a new nurse, my head nurse was an excellent clinician and a no nonsense type leader. She told me that 'no one deserves to keep their position here unless every day they provide safe, compassionate quality care.' That really spoke to me and has guided my work and leadership style. Every single day we need to provide that care," says Sonja.

Every one of Sonja's nominators recognized her strength as a leader, and as someone who inspires others to be great and to put patient-centered care first. Sonja is described as "purposeful yet humble" and leads by example. She is greatly respected by those she has worked and interacted with over her many years at LHSC.

"My inspiration is working with frontline staff and my physician group and allied health group. I enjoy the close proximity to patients, and having a pulse on what staff are challenged with and finding solutions. The front line experience is why I'm passionate about the coordinator role. I get to be close to patients and frontline staff and work out the everyday challenges of health care," says Sonja.