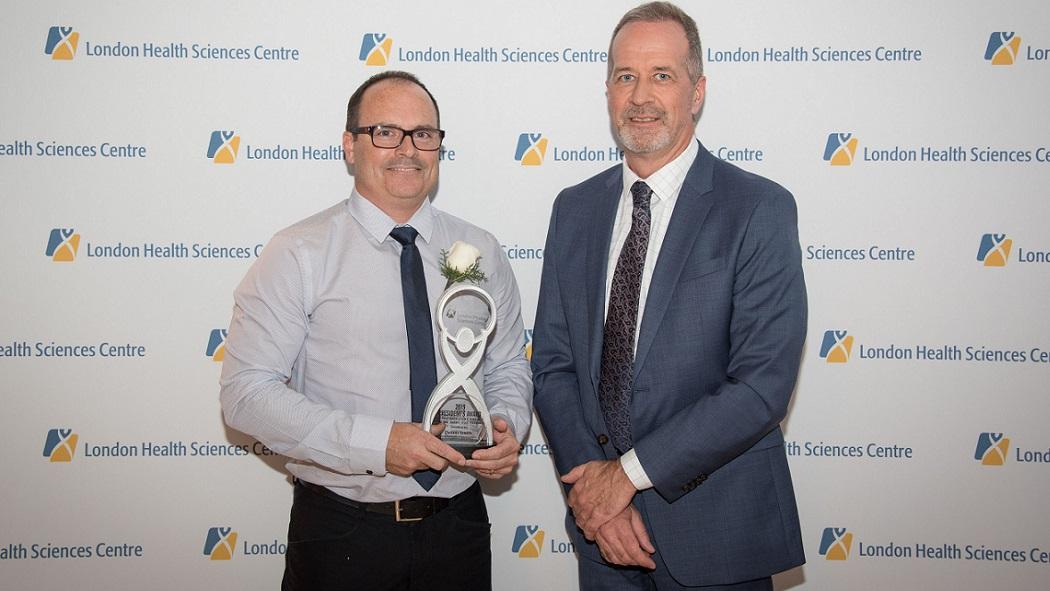 Dennis Smith, 2019 Recipient
Dennis Smith is this year's recipient of the President's Award for Living Our Core Values – How We Serve Our Patients. Dennis is a Nurse Practitioner in the Renal Program at University Hospital.

Upon hearing that he was 2019 recipient, Dennis was very pleased, "It is such an honour to receive this award and especially to be singled out and nominated by the dialysis team, who all care tremendously for our patients. It is an incredible honour for sure."

Dennis' work on the Dialysis Unit is multidisciplinary as he cares for the needs of both acute and chronically ill patients. He is able to effectively monitor patients while working with hospital colleagues and community partners.

"The piece of my work that I really enjoy is making connections with patients over a long time. Patients are here three days per week so getting to know them and their families is important. The connections can be medical, personal or emotional. I love helping my patients on their journey with kidney disease in whatever way I can," says Dennis.

Dennis has also been involved in a variety of research initiatives to explore new ways to meets the needs of patients and their caregivers. Along with educating himself and the renal staff he works with, Dennis teaches students in the Nursing Program at Western University. He has been the renal program quality lead on the Ontario Renal Network Access to Living Kidney Transplantation (AKT) project since 2017 which aims to increase the annual rate of living kidney transplants in Ontario.

The letters of support for Dennis illustrate how he lives LHSC's core values through his passion for quality patient care. Dennis takes the time to speak with patients and families, and he will not settle on a care plan without first including the patient, listening to their perspective and making a plan with the patient and family, not for them. Dennis works with high ethical standards while delivering compassionate care.

"My biggest motivator is the opportunity to impact the care of patients we look after every day. The burden of illness that comes with chronic renal failure is hard, and alleviating that burden through discussion, treatment options, family meetings, whatever we do for them drives me to keep going. Working with a group of nurses, physicians and nurse practitioners, who have the same drive for positive patient outcomes is what intrigues me every day to work with this population," says Dennis.

Dennis transitions from team member to team leader seamlessly when appropriate for the situation, and is accountable for his actions and choices while never afraid to question processes in an effort to improve quality of care, patient outcomes and patient experience. He is found not only to be inquisitive, but to actively work to advance his knowledge through reading, questioning, practicing, and working on quality improvement and research initiatives.