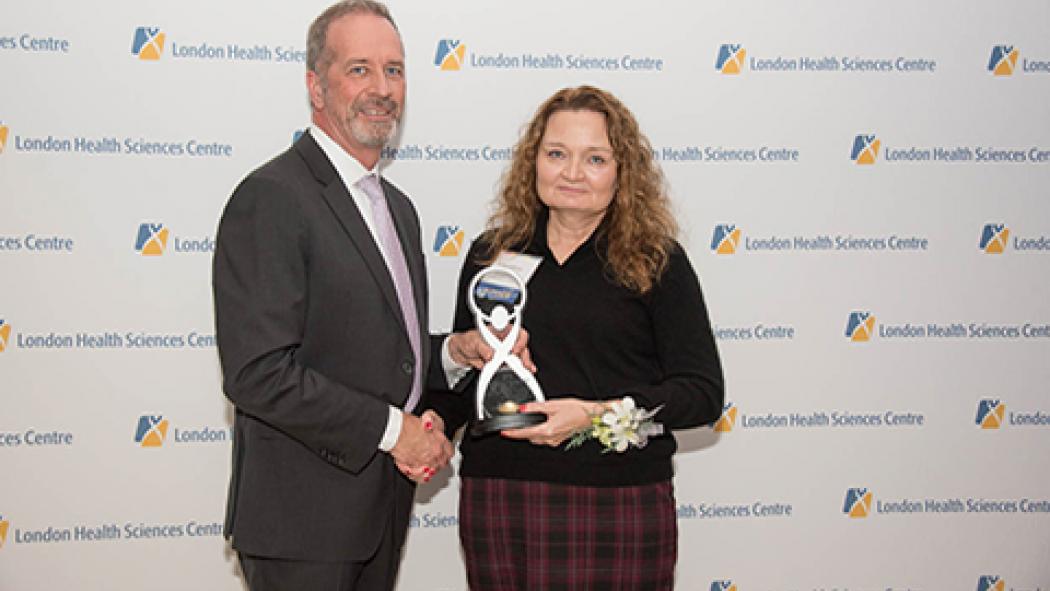 January 22, 2019
Lori O'Brien is this year's recipient of the President's Award for Living Our Core Values – How We Work Together. O'Brien is a Nursing Professional Practice Consultant, and has worked at LHSC for 22 years.
Over the past nine months, O'Brien's focus has been on the development and implementation of new practices and tools for Transfer of Information & Accountability, in preparation for Accreditation. This required organizational practice (ROP) improves patient safety by optimizing how and what staff communicate during transitions in care, which can be one of the most vulnerable care points of a patient's admission or discharge from hospital.
"I try to frame it by thinking 'If the patient was my family member or loved one, what care would I wish them to receive?' What can we do to improve the patient experience?'" explains O'Brien.
The nomination letters in support of O'Brien demonstrates the compassion, teamwork, curiosity and accountability she shows during her interactions with colleagues and staff. Recognizing that any process change can result in mixed reactions, O'Brien displayed compassion and teamwork while influencing her colleagues to understand the importance of this initiative for patient care.
"I'm passionate about nursing and patient safety, and I have a strong interest in improving frontline engagement," says O'Brien.
Her curiosity and accountability were on display when developing the ROP and making sure it was implemented so that every person knew their role and responsibility during transitions.
While O'Brien is appreciative and humbled to be nominated, her nominators highlight that while O'Brien deserves recognition for living the core values every day and being quick to recognize others, her main motivation in her work is always her passion for patient safety and the advancement of nursing professional practice.
"Everybody's perspective adds to the process and solution," says O'Brien. "We all work together to make something happen. It's not about me; it's about the 'we.'"