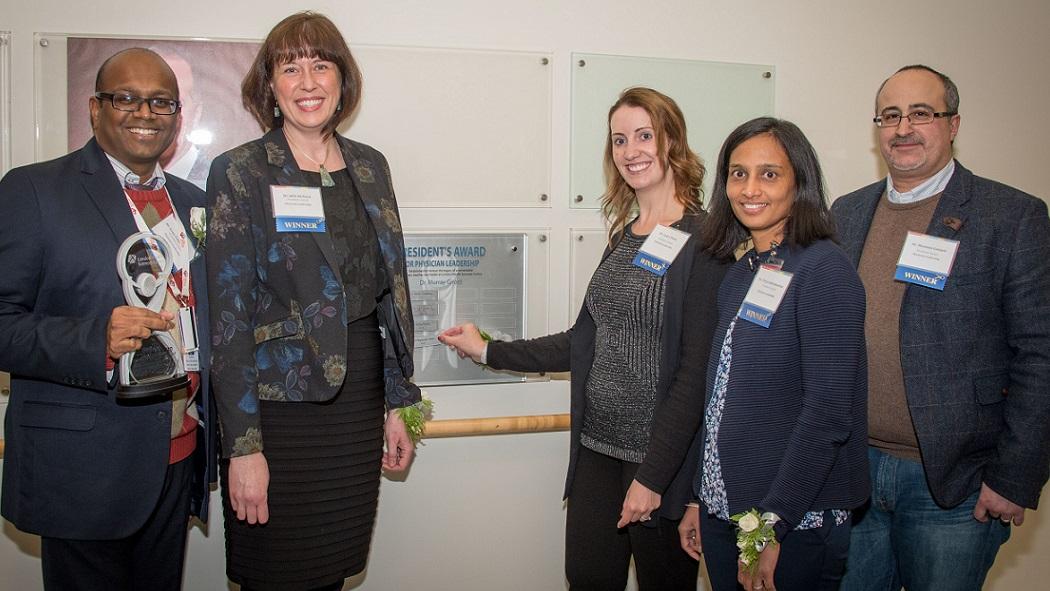 PEPP Physician Team, 2019 Recipient
The Prevention and Early Intervention Program for Psychoses (PEPP) Physician Team is the recipient of the 2019 President's Award for Physician Leadership. This team includes Drs. Lena Palaniyappan, Julie Richard, Priya Subramanian, Hooman Ganjavi, and Laura Powe.

"We were quite surprised. Our larger PEPP team sneakily got us together in a room for an 'urgent meeting' but when we got there it was a telephone meeting with Dr. Woods, who told us the news. We were thrilled and humbled at the same time," says Dr. Priya Subramanian on behalf of the group when asked about being named as recipient. "It brings a greater sense of cohesiveness to our team and reinforces the ideas that as a small team of physicians we can still make significant, meaningful, and lasting changes in the larger organization by simply working within our spheres of influence."

The PEPP Physician Team works with individuals who are experiencing their first episode of psychosis, a population of people who are most vulnerable in our community. This past year, their team suffered the loss of their colleague Dr. Raj Harricharan who devoted over 25 years to PEPP. The PEPP Physician Team came together in their grief to support over 300 patients who were suddenly without a psychiatrist.

Dr. Subramanian explains, "It's called the Raj effect. Raj was a self-actualizing person that always worked to mentor every day in many different ways. Why did he do it? Not for promotion, or to even feel like he is doing the right thing, but because he truly cared about enhancing the growth and betterment of the people around him, be it clients, colleagues, family or friends. The least we could do to honour a giant like Raj and to grieve his loss was to emulate his actions with a similar degree of compassion and care, both for our teammates and his clients."

The PEPP Physician Team make a difference in helping to destigmatize mental illness and are passionate in their pursuit of helping those they work with. They treat patients, peers, and coworkers with respect, and accommodate patients with what they need in their treatment, whether it's making a house call appointment if a patient is afraid to visit the hospital or whether it's going for a walk as an intake appointment if the patient was hesitant to step into an office. Their passion for helping patients was on display as they worked to ensure Dr. Harricharan's patients had ongoing care by connecting them with their family physicians, community supports, or taking them onto their own caseload.

"Everything about PEPP is fantastic. The clients we serve are some of the most diverse in terms of economic, social, educational, ethnic and illness profiles. It is challenging and rewarding at the same time We strive to always focus on our common goal of serving our clients in the best way possible each day," says Dr. Subramanian.

The PEPP Physician Team is highly regarded within LHSC, and that is evident in letters that exemplify their dedication to patients by working evenings and weekends, seeking opportunities for frontline staff to stay informed on issues, and advocating their patients' needs within the community by creating partnerships throughout the city.