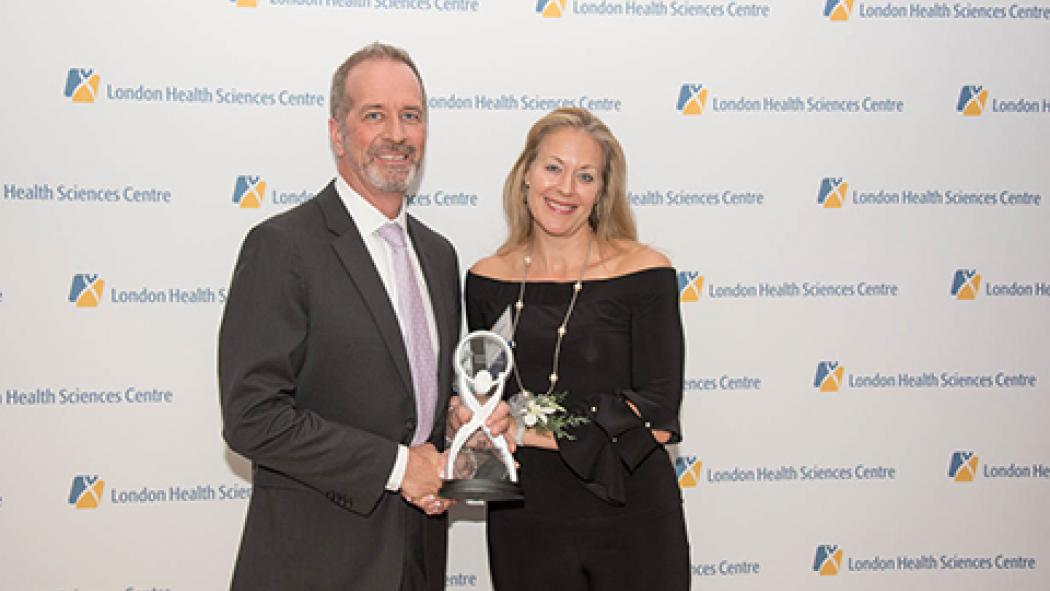 February 13, 2019
Dr. Kylea Potvin, Medical Oncologist and Program Director of the Medical Oncology Residency Program, is the 2018 recipient of the President's Award for Physician Leadership.
"I was pleasantly surprised when I discovered I was the recipient," says Dr. Potvin. "I told Dr. Woods that I know there are a lot of people at this organization doing great things, so I was extremely happy and humbled."
Dr. Potvin has been the Director of the Medical Oncology Residency Program for the past 10 years. Under her leadership, she has further developed the training program which has received national recognition for innovation and for the quality of trainees. Additionally, she serves as a mentor to trainees, ensuring their academic success and also their personal wellbeing in this challenging area of practice.
"I genuinely love what I do. Patient care is why I went into medicine. I believe if I see an issue, I need to do things that make my centre or my community better. Just act on it; if it works then all the better, but if not then at least I know I tried," says Dr. Potvin.
Dr. Potvin is known as a passionate advocate for her patients, and demonstrates compassion and skill in addressing their physical and emotional needs. She has developed and leads the ACT NOW Patient Assistance Fund, a program that supports the cost of cancer medications that are medically necessary but are not funded through any provincial, private insurance or pharmacare access programs. Dr. Potvin has also created a Serious Illness Discussion workshop to help facilitate crucial conversations between caregivers and patients in order to better understand goals in relation to treatment and end-of-life care.
"Kylea brings a passion for what she does to her work, and also a real knowledge of how to affect change, especially among her peers," says nominator, Dr. Glenn Bauman, Radiation Oncologist. "I think she always understands that there's a person behind the patient, behind the colleague, behind the trainee, and she takes the time to find out about the person.
In addition to Dr. Potvin's professional achievements, her nominators describe her as an authentic, passionate leader who brings humour and heart to her work which inspires confidence, enthusiasm and buy-in from others.