June 10, 2013
At a special ceremony on June 7, Bonnie Adamson, President and Chief Executive Officer of London Health Sciences Centre (LHSC) awarded five individuals with the 2013 President's Award.
"I am honoured to recognize these extraordinary individuals who have demonstrated a commitment to improving the lives of our patients, our hospital and our community," says Adamson.
Now in its seventh year, the President's Award program at LHSC celebrates staff, physicians and volunteers in a number of categories. This year the following awards were presented:
The President's Award for Community Service recognizes an individual at LHSC whose volunteer achievements have made a difference to the lives of people in our community. Janet Robinson is a long-time RN in the renal program at Victoria Hospital, and has been a dedicated volunteer with the Girl Guides of Canada for 25 years. Through her positive and enthusiastic attitude toward Guiding, Janet has encouraged young women to be resourceful, courageous, and to make a difference in their community. 
The President's Awards for Living Our Core Values recognize two individuals who consistently demonstrate LHSC's values of respect, trust and collaboration - one focused on how we work together and the other on how we serve our patients.
Dan Logie has been recognized by his colleagues for demonstrating our core values in "how we work together." Dan is the coordinator of the Adult Eating Disorders Service and has helped this relatively new program develop a strong foundation that has preserved and inspired the clinical team's ability to focus on patient care and quality of service. His dynamic approach fosters strong community partnerships and is helping the program grow to serve this patient population.
Dr. Richard Owen joined LHSC in 2007 as a psychiatrist with LHSC's Adult Mental Health Care Program. Recognized for demonstrating LHSC's core values in "how we serve our patients," Dr. Owen is described as a team player who involves both the patient and family in treatment plans. His colleagues describe how he provides hope for patients while developing and refining mental health services at both LHSC and in our community to better help the needs of mental health clients.]
The President's Award for Leadership recognizes an individual at LHSC who demonstrates leadership capabilities that make a significant difference to the effectiveness of our organization. Sandy Jansen is LHSC's Director of Pharmacy and has helped the department create its own internal vision by fostering a positive culture of change. Demonstrating confidence and enthusiasm for patient safety and staff well-being, Sandy has led a number of successful project implementations. Sandy is described as a driving force to influence change and someone who inspires the best in everyone around her.
Established to honour the leadership legacy of the late Dr. Murray Girotti, the President's Award for Physician Leadership recognizes physicians who demonstrate the leadership qualities he exemplified. Dr. Simon Levin is the section head of paediatric neurology at Children's Hospital and is described as a remarkable colleague, clinician, teacher and leader. Through his sense of humour and respect, Dr. Levin has demonstrated leadership in patient care, education and administration during his 30 years of practice.
Each winner's name also now appears on the perpetual plaques honouring award recipients, located in the President's Gallery at Victoria and University hospitals.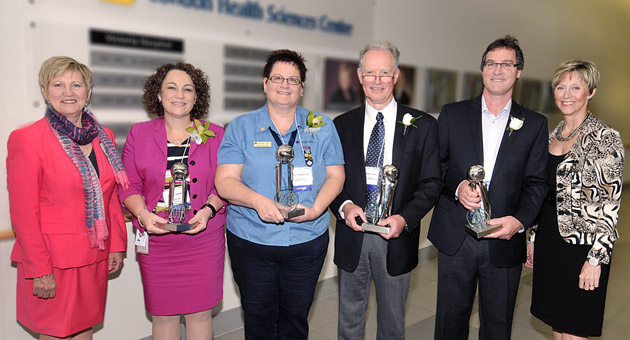 Bonnie Adamson, LHSC President and CEO, awarded five recipients with a 2013 President's Award. Pictured from left are: Bonnie Adamson, Sandy Jansen, Janet Robinson, Dr. Simon Levin, Dan Logie, and Ruthe Anne Conyngham, Chair of LHSC's Board of Directors. Absent from photo is Dr. Richard Owen.
See more photos from the 2013 President's Award Ceremony on LHSC's Facebook page.