January 19, 2015
Last week at a special ceremony, Murray Glendining, President and CEO of London Health Sciences Centre (LHSC) recognized more than 20 nominees and awarded six individuals with a 2014 President's Award.
"I am honoured to offer my sincere congratulations to these individuals, each of whom is helping to make a positive difference within our organization and our community," says Glendining.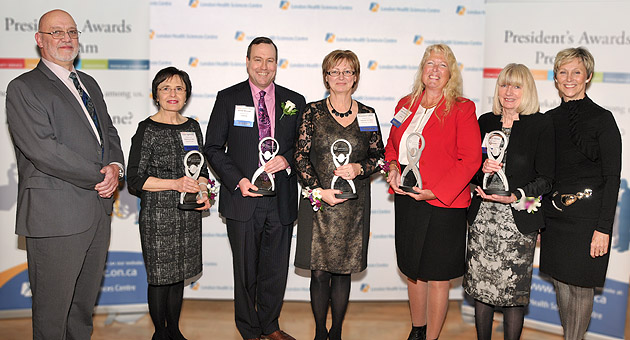 Murray Glendining, LHSC President and CEO, presented six recipients with their award at the President's Award Ceremony on Jan. 16. Pictured from left are: Glendining, Linda Jagelewski, David McLean, Rosemary Leitch, Cathy Vandersluis, Dr. Cheril Clarson, and LHSC Board Chair Ruthe Anne Conyngham. Not pictured: Dr. Mandar Jog.
Now in its eighth year, the President's Award Program at LHSC celebrates staff, physicians and volunteers in a number of categories.
The President's Awards for Living Our Core Values recognizes two individuals who consistently demonstrate LHSC's values of respect, trust and collaboration – one focused on how we work together and the other on how we serve our patients:
Linda Jagelewski

has been recognized by her colleagues for demonstrating our core values in "How We Work Together." Linda is the charge nurse of cardiac surgery in the operating room at University Hospital. Her nominators describe how her dedication and tireless efforts, paired with a positive attitude, inspire staff members to see Linda as the embodiment of LHSC's core values when working together.



Rosemary Leitch

is a registered nurse in home hemodialysis at LHSC's Kidney Care Centre and has been working at LHSC for almost 40 years. Recognized for demonstrating LHSC's core values in "How We Serve Our Patients," nominators describe how Rosemary empowers her patients by validating their anxieties and fears, and inspires confidence that patients and their families will be fully capable in assisting with their care.
The President's Award for Leadership recognizes leaders at LHSC – both formal and informal - who demonstrate leadership capabilities that make a significant difference to the effectiveness of our organization. For the first time there was a tie, and this year two deserving recipients were chosen:
David McLean

is a consultant on the Talent Strategy and Development team who has been with LHSC for eight years. David's nomination highlighted his leadership skills in many ways through his work as a patient experience strategy leader for the development of the Patient and Family Centred Care (PFCC) initiative at the London Regional Cancer Program. In this role, David was able to mobilize staff, physicians, and resources throughout the LRCP to develop a shared and comprehensive understanding of PFCC while implementing a plan for its enhancement.



Cathy Vandersluis

is LHSC's Director of Clinical Neurological Sciences (CNS) and Infection Safety and has worked at LHSC for 29 years. Cathy has led considerable change at LHSC, both in infection prevention and control and stroke care. She is described by her nominators as an enthusiastic and positive leader with a 'can do' attitude, effecting change through her leadership with tangible and sustainable results. Cathy is skilled at connecting with others for a shared vision and is well known in the region for her extensive knowledge and strategic planning and execution.
The President's Award for Innovation recognizes an individual or team who has demonstrated innovation capabilities that have made a significant difference to the effectiveness of the organization. This year's recipient, Dr. Mandar Jog, is a neurologist in Clinical Neurological Sciences at University Hospital who has worked at LHSC for 16 years. Dr. Jog is described as a true collaborator who works with individuals and departments in new and inventive ways to bring their various expertise to a clinical issue with promising results.
Established to honour the leadership legacy of the late Dr. Murray Girotti, the President's Award for Physician Leadership annually recognizes a physician who demonstrates the leadership qualities exemplified by Dr. Girotti. This year's recipient, Dr. Cheril Clarson, is section head of paediatric endocrinology at Children's Hospital and is described as a dedicated clinician with over 30 years of experience. Dr. Clarson shows deep respect for patients and families while managing a considerable clinical workload, teaching, and significant research studies.
Each winner's name also now appears on the perpetual plaques honouring award recipients, located in the President's Gallery at Victoria and University hospitals.