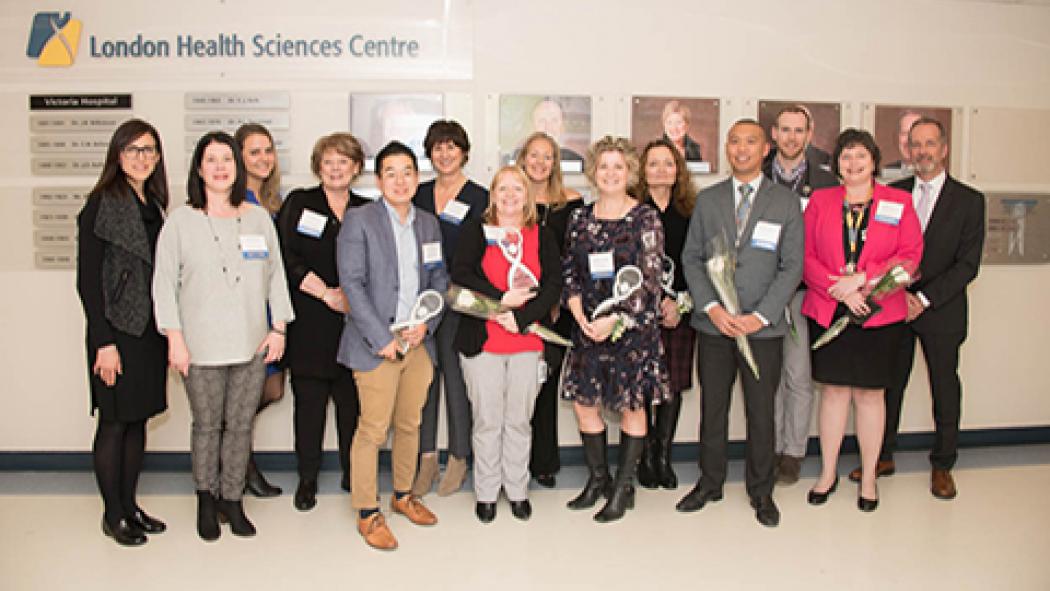 At a special ceremony and reception on Dec. 14, LHSC's President and CEO Dr. Paul Woods and Board Chair Ramona Robinson recognized 17 nominees and awarded five recipients, three individuals and two teams, with a 2018 President's Award.
""I am thrilled to recognize all of these remarkable individuals and teams, whose consistent demonstration of values, leadership and innovative approaches to improving care are making a positive difference for our colleagues, patients, and community" says Dr. Woods. "I am honoured to offer my sincere congratulations to each of this year's President's Award nominees and recipients."
Now in its twelfth year, the President's Award Program at LHSC celebrates staff, physicians and volunteers in a number of categories. This year the following awards were presented:
The President's Awards for Living Our Core Values recognize two individuals or teams who consistently demonstrate LHSC's values of compassion, teamwork, curiosity and accountability - one focused on how we work together and the other on how we serve our patients.
Lori O'Brien, Nursing Professional Practice Consultant, has been recognized by her colleagues for demonstrating LHSC's core values in "how we work together."
Social Work Team - Women's Care & NICU, including Kim Gray, Antonella Giancola Thompson, Young Kim, Dolores Baldissera, Heather Small, and Kasha Herba, is recognized for demonstrating LHSC's core values in "how we serve our patients."
The President's Award for Leadership recognizes leaders at LHSC – both formal and informal - who demonstrate leadership capabilities that make a significant difference to the effectiveness of our organization. This year's recipient is Suzanne Schwab, Manager, Medical Device Reprocessing.
The President's Award for Innovation recognizes an individual or team who has demonstrated innovation capabilities that have made significant advances to the organization. This year's recipient is Patient Oriented Discharge Summary (PODS) Team (Phase 1) - UH Acute Medicine. The PODS team created a tool to allow discharged patients to communicate with their entire multidisciplinary health-care team from home. The tool allows a patient to view their discharge details in one place, including follow up appointment information, contacts and resources, patient education materials, and notes from their care providers. The team includes Dr. Andrew Appleton, Claire Martin, Dr. Alan Gob, Dr. Erin Spicer, Andrea Cowan, Ann Turcotte, Anne Forster, Tara Caslick, Anne Leckie, Vicky Baroudi, Lisa Dawtrey, Tammy Steele, Tammy Fisher, Helen Sumpter, Carolyn Burke, Kristine Millman, Betty Mayville, Beccy Roden, Sherry Ostapiuk, Michelle Hennessey, Donna Simpson, Robin Francis, and Sue Vollbrecht.
Established to honour the leadership legacy of the late Dr. Murray Girotti, the President's Award for Physician Leadership recognizes physicians who demonstrate the leadership qualities he exemplified. This year's recipient is Dr. Kylea Potvin, Medical Oncologist.
Each award recipient received a stainless steel statue, and their names or team names now appears on the perpetual plaques honouring located in the President's Gallery at Victoria and University hospitals. View more photos on our Facebook.