November 22, 2016

London Health Sciences Centre (LHSC) is promoting falls prevention and home safety throughout November, Fall Prevention Month. Falls among older adults are the leading cause of death, hospitalization and Emergency Department visits in unintentional injuries among individuals 65 years and over in Middlesex-London. 
From April 2014 - August 2016, LHSC emergency departments saw approximately 7,700 visits for falls in the over 65 years of age category.  Generally these occurred at home or their place of residence and were the result of slips and trips on same level.
To draw attention to home safety, LHSC's inter-professional fall prevention working group has set-up a "living room" in the atrium at Victoria Hospital. "Our focus is on keeping your home safe for older adults. A fall can significantly impact the independence of seniors," says Jane Edwards, injury prevention specialist, LHSC. The committee is also equipping visitors with prevention tips and the warning signs of a fall, including a home safety checklist that is provided at many ambulatory care clinics. 
Interestingly, 66 per cent of emergency department visits as a result of a fall were by female patients, 28 per cent of visits included a type of head injury, a further 28 per cent was a lower limb injury (i.e. superficial injury to hip or strain/sprain of ankle), with 16 per cent of those injuries being related to the hip. 
"Fall prevention is critical for patients both in hospital and for those in our community. For inpatients, if it is an injurious fall, they may require surgery, requiring longer recovery than initially anticipated impacting their length of stay. For someone living in the community it can affect their quality of life, loss of independence and decrease their confidence resulting in them being less active," says Cathy Litwin, Patient Specialist, Patient Safety & Experience, LHSC. 
Fall Prevention Tips:
Check your medication
Keep Active
Speak Up about Dizziness
Watch your Step
More tips can be found at Findingbalanceontario.ca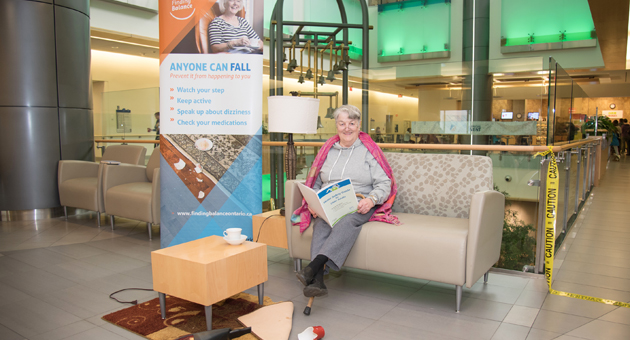 Rosemary in the "living room" display to bring awareness to home safety and fall prevention