May 24, 2012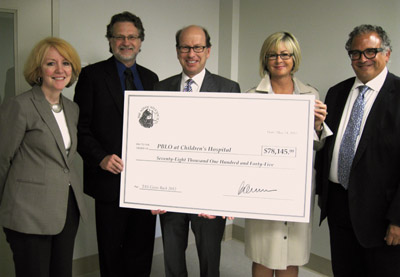 Today, the Children's Hospital at London Health Sciences Centre, The Advocates' Society and Pro Bono Law Ontario (PBLO) launched a program that brings clinicians and lawyers together in pursuit of better child health outcomes.
At no cost to the eligible patient or family, the PBLO at Children's Hospital program brings a lawyer into the care mix, if requested by the family, when legal issues arise that impact a critically or chronically ill child's health or the family's ability to care for that child.
One such example is a parent who provides the main source of family income and loses employment because of how much time she has taken off work to attend to her child's bedside at the hospital.
Through this program, PBLO Triage Lawyer Lee Ann Chapman will now be part of the Children's Hospital team. Chapman will train hospital clinicians on legal issue spotting, meet families on site, and provide services such as legal advice, document preparation and referrals to volunteer lawyers for representation.
"This is a wonderful program which will be very beneficial for families facing difficult times," says Bonnie Adamson, LHSC President and CEO. "It is a strong example of putting our vision into action, building partnerships to provide excellence in patient care and improving patient and family experiences."
Children's Hospital is the second hospital in Canada to launch this program. Michael Lerner, Law Society Bencher and Children's Health Foundation Board Chair, was instrumental in bringing this partnership to fruition. Partners in the PBLO at Children's Hospital program also include Lerners LLP, Siskinds LLP and The Advocates' Society.
"Serious illness does not often occur in a vacuum," says Chapman. "It can be exacerbated by external factors and can create major fallout for families who are, frankly, overwhelmed.  Our experience has shown that bringing legal services directly to families can make a meaningful difference, and we are glad to have the opportunity to do so in London."
"We are especially pleased to see that a lawyer will be assisting patients, and the families of patients, at no cost, at what can be an extremely stressful time," says Mark Lerner, President of The Advocates' Society. "We are thrilled to be involved with a project as important as the Children's Hospital program. On behalf of the board of Directors of The Advocates' Society, I'd like to thank each and every one of our members who donated to this worthy cause."