April 17, 2018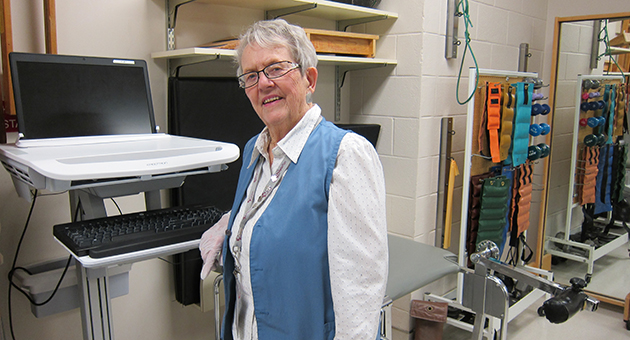 Jean Ireland will be receiving her 25-year Long Service Award from LHSC's Volunteer Services, recognizing her volunteer efforts in the physiotherapy gym at LHSC's University Hospital. 
April 15 to 21, 2018 is National Volunteer Week and the recognition is well deserved for the nearly 900 individuals who donate their time to help others at London Health Sciences Centre (LHSC). Each year, LHSC's Volunteer Services holds an appreciation event where all volunteers are thanked for their work and those who have milestones over five years are recognized with a Long Service Award. This year 63 LHSC volunteers will be receiving long service award pins, starting from five years up to 30 years of service.
Jean Ireland starts every week the same: greeting patients, helping physiotherapists, and making a difference—every Monday morning.
Ireland is a volunteer at University Hospital (UH) at London Health Sciences Centre (LHSC), a role she has held for 25 years. For all of those 25 years she has volunteered in the physiotherapy gym at UH, where she continues making a difference for patients and staff. Ireland is being recognized with a 25-year Long Service Award from Volunteer Services during Volunteer Week.
Ireland, who has three children, eight grandchildren and 12 great-grandchildren, says she enjoys helping the staff by "fussing around" and helping to put equipment away. She'll make ice packs for patients and help to fold linens. But her greatest enjoyment comes from her patient interactions.
"I really love visiting with the patients, welcoming them when they arrive. I tell them 'you're going to get help here.' I love to encourage people and make them feel comfortable."
Ireland's husband had two heart bypass surgeries at LHSC's University Hospital, and it's for that reason that she wanted to give back to the place that cared for her husband. "This hospital is a special place," she says.
And as much as Ireland loves the physiotherapy staff, the feeling is mutual.
"Jean is a breath of fresh air when she comes into the department. She is always very helpful with assisting the therapists with getting equipment that we need as well as keeping the department organized and tidy. She is an inspiration to many of our patients and when she is not busy helping the therapists, she interacts with them in a kind and encouraging manner.  We all look forward to Mondays when we know that Jean will be in to help our department run smoothly," says physiotherapist Sandra Chesworth.
"Jean is a real pleasure to have in our department," adds physiotherapist Richard Rosedale. "She never fails to be upbeat and encouraging for the patients, always with a smile and a kind word. Jean is very positive and compassionate in all her interactions, always looking to help out in whatever way she can."
Ireland says her relationships with staff have made her volunteer role that much more special. "I feel double blessed because of my interactions with both patients and staff."
Ireland says she appreciates that she has her own good health which has allowed her to thrive in her volunteer role.
"I find the ability to serve others and help them in their return to health is the most satisfying aspect of this role," she says. And with 25 years under her belt, Ireland says she has no plans of stopping anytime soon. "I'm 87 years old, and I'll volunteer for as long as God gives me health."