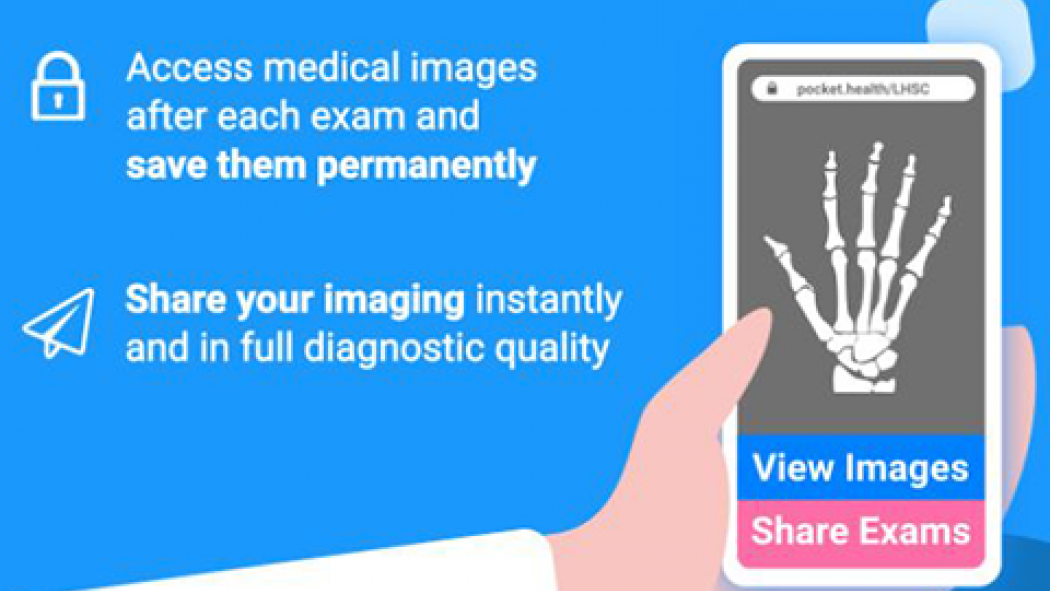 London Health Sciences Centre (LHSC) is now offering patients the option to enrol in PocketHealth for easy access to their medical images online. PocketHealth is a service that allows patients to access their medical images online from any device in full diagnostic quality and instantly share them with others of their choosing through fax, a secure email, or a link.
Here's how it works:
Rather than return to the hospital for a CD copy as previously needed, patients will be able to enrol for access at www.pocket.health/lhsc or by filling out and returning the paper form at LHSC's medical imaging reception
Patients who choose to enrol with PocketHealth will have their images stored permanently and readily accessible at any time, from any device. There is a $5.00+HST fee (paid online to PocketHealth) to have all their LHSC images stored with PocketHealth, a well as any additional exams over the next two weeks
Patients are notified of new images as they become available, which can be added to their account. After the initial two week period, there is a $5.00+HST fee to store new images
Strong privacy and encryption protocols keep the medical information secure
Reports are not included with the images and patients do not need to register for LHSC physicians to be able to access their medical images.
More than 500 hospitals, clinics and imaging facilities across North America – including 340 in Ontario –have partnered with the Toronto-based PocketHealth to provide this service to their patients. PocketHealth officially launches at LHSC's Victoria Hospital on June 11 and University Hospital on June 13.
Making PocketHealth available to LHSC patients is one of the ways we are keeping patients at the centre of everything we do, as it will empower individuals to have easy access and control over their medical imaging, improve transitions in care when images are not currently stored in LHSC's PACS or the DIR, and enable LHSC's Medical Imaging department to more fully automate, secure, and modernize the imaging release process.