July 17, 2012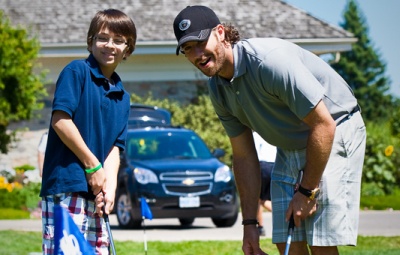 Liam met his friend Brandon Prust at Children's Hospital when Brandon was a member of the London Knights hockey team.   While Liam was being treated at Children's for Acute Lymphoblastic Leukemia, a family friend offered to connect Liam with now NHL player Brandon Prust.  While Liam's family expected a brief visit, Prusty and Liam shared stories for two and a half hours and after that day, their friendship was sealed in stone, and as a result, Brandon was inspired to help other sick and injured children at Children's Hospital.
On August 2, Brandon is hosting the inaugural Prusty4Kids Charity Golf Tournament at Redtail Golf Course, which will support the Kids Kicking Cancer program launching at Children's Hospital this fall.
Kids Kicking Cancer is a program that allows paediatric cancer patients and their families to take control of the pain and stress of their disease and treatments through personalized martial arts classes and deep breathing techniques.  The program aims "to ease the pain of very sick children while empowering them to heal physically, spiritually, and emotionally."
To learn more about the Prusty4Kids Charity Golf Tournament and find out how you can help, visit us online at www.prusty4kids.ca .