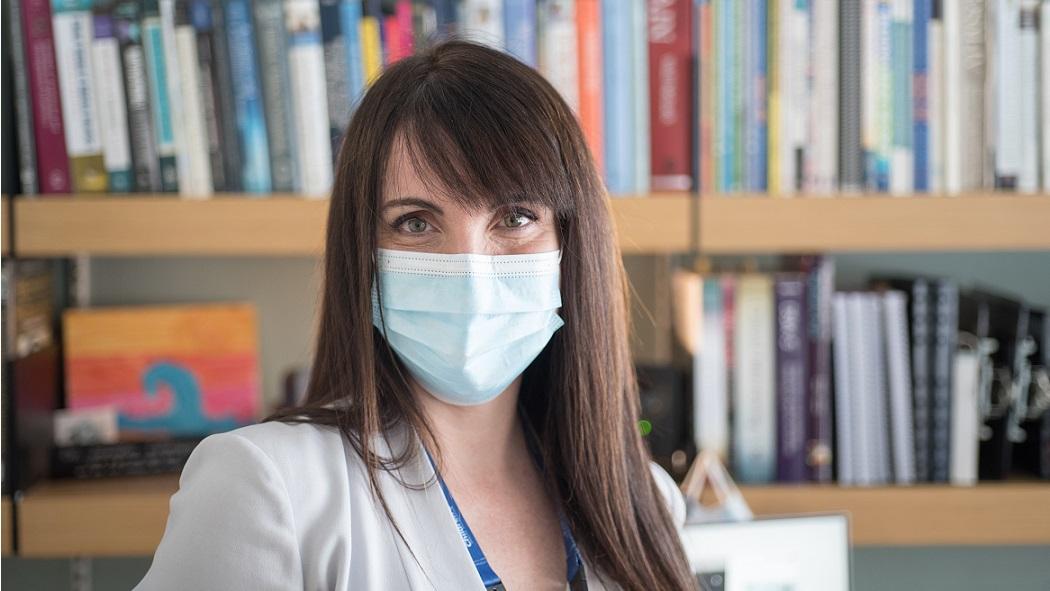 Dr. Jennifer Crotogino, a child psychologist at LHSC helps young patients coping with chronic pain.
February 19, 2021
Children and youth experiencing chronic pain due to illnesses not related to COVID-19 were impacted by the changes the pandemic has brought from school closures to changes in medical appointments. Child psychologists at London Health Sciences Centre (LHSC) were there to help these patients and their families navigate the waters and cope with their pain.
Dr. Jennifer Crotogino, a child psychologist at LHSC understands the impact on these patients and their families. "Chronic pain impacts so many pieces of young patients' lives and often takes a toll on their mental health. We know that children and youth with chronic pain are at increased risk of anxiety and depression, and how important it is to address these issues as quickly as possible," she says. Dr. Crotogino and her colleagues have adapted the way they support young patients dealing with chronic pain and the pandemic to ensure patients get the care they need, when and where they need it.
Typically, child psychologists work as part of the health care team to help young patients address and adapt to the impact of their illness on their daily lives using evidence-based interventions. Dr. Crotogino works with young patients to help them return to the things they love and want to participate in. Normally, she would see patients both individually and in group treatment sessions where they would work together to develop mind-body pain management strategies, stress and anxiety management techniques that they use as they progress towards their personal goals.
"We help kids cope with their illness and the impact on their lives as part of the care team," says Dr. Crotogino. "Chronic pain leads to stress and anxiety and fear of doing normal things. Helping kids know what they can do safely, how they can get back to daily routines, and be able to function with pain at school and during sleep is a large part of what we do."
When the first wave of the pandemic began a year ago, many of the psychologists at LHSC were redeployed with the exception of those in adult mental health and those providing urgent and emergency care to patients throughout the hospital, Dr. Ian Nicholson, Manager of Psychology explains. Psychologists at LHSC support patients in primarily three programs: paediatrics, mental health and neurology.
As the initial first wave progressed, psychologists returned to serving their patients, including Dr. Crotogino who had initially been redeployed to support the mental health of her coworkers on the Peer Support Hotline.
Since returning to her patients, Dr. Crotogino and her colleagues have made a concerted effort to improve the treatment they provide to patients during these uncertain times, whether it be through virtual appointments or adjusting current treatments to ensure young patients do not get missed. "Not only did the assessments and treatment get paused, but so did the many important activities and routines that kids either used for coping, or were working to get back to," says Dr. Crotogino.
One way to ensure patients still received assessment and treatment despite the increasing restrictions and anxieties was to switch to virtual video sessions. Dr. Crotogino explains the switch to the virtual environment did create some challenges for working with newer patients, as reading the body language
of the patient and their parents is a component of their assessments. "We had to figure out, how do we make this a good, comfortable experience for the patient, and make sure kids with pain don't go unseen and untreated," she says.
As the pandemic has progressed over the past year, so has the team's ability to provide services to their patients in new ways. February is Psychology month and LHSC is recognizing their work throughout the hospital as they provide care to patients, child and adult who are dealing with new, chronic or life changing events.